Hi everyone! 
I'm Tara Lain and I write The Beautiful Boys of Romance. I love all my characters, but especially my unique heroes. I write mostly MM romance with some MMF as well. I love the intensity, passion, lack of gender roles, diversity, and innate drama that accompany two men in love. Giving my guys their happy ever after is my favorite thing. I write serious themes with a light touch and readers often call my books "sweet" despite all the hot sex!  I believe in love and enjoy giving more of it to the world! Please say hi, ask questions, and make yourself at home!  : )
Invitation! Want to be in on special subscriber-only contests, get peeks at works before they even go to the editors, find out about events and drawings and hot new excerpts from great writers? Sign Up for my newsletter. My newsletter just won an All Star Award from

Constant Contact — the newsletter people. I'm honored and delighted because it means my subscribers like the newsletter i send. They open it and interact! Thank you! Come join us!

____________________________________________________________
____________________________________________________________
New and Exciting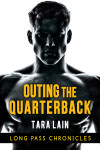 Are you going to GRL? Order Tara's new book (or her Wolf book) now and pick them up at GRL for signing. Save the shipping costs!
From now until Sunday September 21, all print books are 35% OFF at Dreamspinner. Don't miss this great price!

OUTING THE QUARTERBACK Blog Tour is HERE! Tons of prizes, excerpts and fun. Enter the Rafflecopter HERE or on the Contests Page.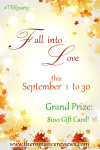 The Fall into Love Party at The Romance Reviews is ON NOW! Tara's new book will have a Q&A on September 19th and will be featured on the Page from September 26-30th! But get over there now and play all the games. Lots of great prizes! Click HERE to Par-tay!
__________________________________________________________________________________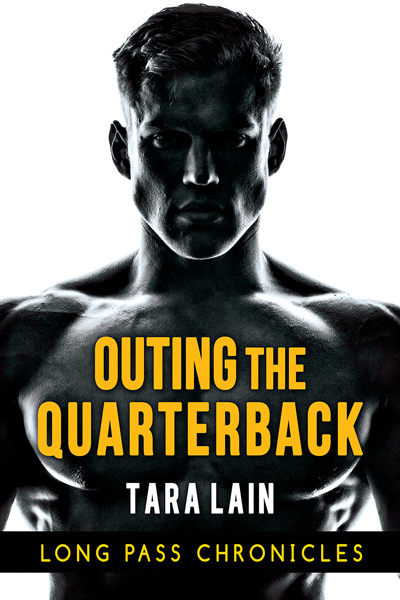 Now Available at Amazon
NOW AVAILABLE at All Romance eBooks  

Dreamspinner ebook HERE.
Dreamspinner Print book HERE.
OUTING THE QUARTERBACK is on Goodreads. If you plan to read it, will you please mark it as To Read? Thank you! CLICK HERE.
Will Ashford lives in two closets. He meets his wealthy father's goals as both the quarterback for the famous SCU football team and a business major, but secretly  he attends art school and longs to live as a painter. And he's gay. But if he can win the coveted Milton Scholarship for art, he'll be able to break from his father at the end of his senior year. 
In a painting master class, Will meets his divergent opposite, Noah Zajack. A scarred orphan who's slept on park benches and eaten from trash cans, Noah carefully plans his life and multiple jobs so he has money and time to go to art school. Will's problems seem like nothing compared to Noah's. Noah wants the scholarship too and may have a way to get it since the teacher of his class has designs on him, a plan Will isn't happy about. 
When a gossipmonger with a popular YouTube channel finds evidence that Will is gay, the quarterback's closet doors begin to crumble. Hounded by the press and harassed by other players, Will has to choose. Stay in the closet and keep his family's wealth, or let the doors fall off and walk out with nothing. Nothing but Noah.  
Susan at Blogger Girls says — I Loved It! 4.5 Stars! 
 __________________________________________________________________________________

The Pack or the Panther and Wolf in Gucci Loafers Now Available in Audiobook Format
BUY The Pack or the Panther  at AUDIBLE      AMAZON    DREAMSPINNER PRESS
Buy Wolf in Gucci Loafers at AUDIBLE and AMAZON
Narrated by Max Lehnen
Also Buy both book  in ebook and print
____________________________________________________
Tara Lain Signs Contract with Dreamspinner Press for Winter's Wolf

Book 3 in Tales of the Harker Pack
Tara Lain's very popular new werewolf series, Tales of the Harker Pack, will now have a third book. The Wolf Who Came Back will center on a new hero, Winter Thane, and his father Damon Thane, but also involves all the characters from the previous books. Expect this book around March of 2015.
____________________________________________________________
Tara Lain Goes BACK to the Beach in New Three-Book Series, LOVE in LAGUNA. Signs Contract with Dreamspinner for 2015/2016 Releases
Tara Lain is widely known for her popular books set in the California beach town, Laguna Beach. Now, Tara announces a new three-book series contracted by Dreamspinner Press for new MM romances back in her favorite setting. For all the details, Click HERE to read the news release. The 3 new books, Knight of Ocean Avenue, Prince of the Playhouse, and Knave of Broken Hearts, will be released in spring and fall of 2015 and in early 2016. More details in the Press Room
__________________________________________________________________________________________
WOLF in GUCCI LOAFERS 
Bestseller!
At AMAZON  Click HERE
from Dreamspinner Press. Click HERE!
From All Romance eBooks Click HERE

Socialite Lindsey Vanessen wants someone to love who will love him back—an impossibility for a gay, half-human, half-werewolf. Too aggressive for humans, too gay for wolves, and needing to protect the pack from human discovery, Lindsey tries to content himself with life as a successful businessman. But when someone starts kidnapping members of wealthy families, Lindsey meets tough cop Seth Zakowsy—the hunky embodiment of everything Lindsey wants but can't have.
 Seth has never been attracted to flamboyant men. What would the guys in the department think of Lindsey? But intrigue turns to lust when he discovers Lindsey's biting, snarling passion more than matches his dominant side. It might mean a chance at love for a cop in black leather and a wolf in Gucci loafers.
Do You Plan to read WOLF IN GUCCI LOAFERS? Please put it on your Goodreads To Read List! Click HERE!
_____________________________________________________________________________________________