Hi everyone! 
I'm Tara Lain and I write The Beautiful Boys of Romance. I love all my characters, but especially my unique heroes. I write mostly MM romance with some MMF as well. I love the intensity, passion, lack of gender roles, diversity, and innate drama that accompany two men in love. Giving my guys their happy ever after is my favorite thing. I write serious themes with a light touch and readers often call my books "sweet" despite all the hot sex!  I believe in love and enjoy giving more of it to the world! Please say hi, ask questions, and make yourself at home!  : )
Invitation! Want to be in on special subscriber-only contests, get peeks at works before they even go to the editors, find out about events and drawings and hot new excerpts from great writers? Sign Up for my newsletter. My newsletter just won an All Star Award from

Constant Contact — the newsletter people. I'm honored and delighted because it means my subscribers like the newsletter i send. They open it and interact! Thank you! Come join us!


____________________________________________________________

____________________________________________________________
"If you haven't read any of Tara's work, you are missing out on a gem of MM romance. Fans of Amy Lane and Andrew Grey will appreciate both her contemporary and paranormal titles. Happily Ever Afters are guaranteed."
Portia du Moncur — MM Good Book Reviews
_____________________________________________
A Gift from Tara Lain — 
Download Tara's FREE Sampler and get a big bite of six of Tara's books — the first books in her series! Click HERE!
________________________________________________________________________________
New and Exciting
New Release Coming — Love You So Madly Releases May 29th. Preorder Now.
A new, super-romantic series of novellas is underway! The Love You So stories were launched with Tara's super-popular Love You So Hard and now continues with Love You So Madly.
Ben Shane has it all… and he'd like to give some of it back. While he loves his job heading a foundation that funds worthy causes around the world, his engagement to one of America's wealthiest men leaves him feeling more like a trophy wife than a valued partner. The first warning that his relationship might not be designed to last is his irresistible lust for Dusty Kincaid, the golden-haired, bright-eyed handyman for his company.
Though Dusty is odd for a twenty-three-year-old—no liquor, no sugar, and he can't even drive—the more Ben gets to know Dusty, the more he admires him. But is Ben going to give up a guy who drives a Ferrari for one who takes the bus? He must be mad. Dusty knows he and Ben can never work. After all, Ben's perfect… and Dusty isn't. But Ben might surprise everyone with proof that he's only mad in love.
_________________________________________________________________________
Re-Release of One of Tara's Most Popular Stories — Love You So Hard!
Not only do readers get a re-edited version of this popular story, Love You So Hard is now the first book in a new novella series called the Love You So Stories!
Craig Elson's life has hit rock bottom. Even though he's one of the best strategic planners around, a more confident guy takes credit for his work, and despite being a good-looking man, he suffers insults from the slimiest creep at the bar. Taking care of his beloved mom, who has Alzheimer's, uses all his funds, leaving him in a plain, depressing car… and a plain, depressing life.
Until he sees gorgeous grad student Jesse Randall and his T-shirt that reads "I Would Bottom You So Hard." The message seeps into Craig's soul, and he asks Jesse to teach him to top.
Jesse's had his eye on the quiet hottie who comes into the coffee shop, and he's more than eager to perfect his tutoring. He sets out to get Craig a new job, a new apartment, and a new life so far outside plain and depressing that it's unrecognizable.The problem is, Craig loves his lessons—and his teacher—too much to want to graduate. How can Craig reach the top without losing his sassy bottom?
__________________________________________________________________________
Volley Balls now in Audio with Nick J. Russo Narrating!
If you love audiobooks, you'll want to grab this wonderful version of Tara's super-popular Volley Balls, the first book in the Balls to the Wall series!
___________________________________________________________________________
Valentine Day Gift! Re-Release of Hearts and Flour
Tara's quirky, sexy little love story re-releases in time to have cupcakes for Valentines Day! Get it at Dreamspinner Press   Amazon and everywhere!
Can a raw food enthusiast find love with a guy who bakes cupcakes?
When Micah Truveen's devoted health-food customers start showing up with white flour, Micah wants to chew nails! To make his misery worse, he finds his yoga teacher boyfriend in bed with another guy the day before Valentine's Day. Micah decides to drown his misery at a friend's anti-Valentine's Day orgiastic hookup party—and meets the beautiful Queen, a gorgeous cross-dresser who's got Southern sugah in his mouth and the right equipment under the dress. But when the hookup turns serious, Micah has to compromise to protect Queen's secrets from his beloved grandmother. With everything against them, can two hearts rise above the flour?
______________________________________________________________
Identical Twins. Unique Love Stories.
Bleu Balls, the story of the McMillan twins, Robin and Bobby, known as Double Trouble, is now available!  This is the first full-length novel in the Balls to the Wall series. Read an excerpt HERE.
____________________________________________________________
Now Available! Rome and Jules
Two great werewolf houses, both alike in dignity —
Rome Siracusa, youngest son of the alpha of the nouveau-riche Siracusa pack, wants to be a faithful son and pack member, but he's got two big secrets. One, he's blessed with enhanced hearing, vision, strength, and the ability to shift at will. Second, he's gay, a fact he can't admit to his deadly homophobic father.
Rome crashes a party at the mansion of his pack's greatest enemy, the ancient, pure-blooded Havillands. Jules, the gay son of the drunkard alpha, is being married off to a rich entrepreneur. Smitten and moved by the beautiful male's plight, Rome tries to find a way to save Jules—while digging himself deeper into pack politics and navigating his own arranged marriage. Secrets climb out of the caves as the werewolf gods speak through the mouths of their children, and the two great families clash, suffocating the hopes of star-crossed lovers.
_____________________________________________
Is it always wrong to pretend to be Mr. Right?
One of Tara's most popular books in the Balls to the Wall series, Snow Balls is re-released from Dreamspinner Press on December 6th.
J LaRousse looks like a quarterback but acts like a queen. He's trying to be proud of who he is—until a robbery at the famous Laguna Winter Fantasy brings JJ face-to-face with tough cop Ryan Star. JJ hears Ryan likes manly men, so he drops his voice an octave, colors his pink hair, and tries to pass as a football fan.
Ryan Star may be tough, but he keeps his sexuality to himself at work. He learned in New York that being a gay cop can be deadly. His attraction to JJ threatens his secret, but he's finding it hard to back away from a guy who's so totally his type. Then, during a ski trip and a confrontation with JJ's biggest nemesis, all the façades come crashing down. In the aftermath, can Ryan love JJ for who he really is? More importantly, can JJ?
Order now at Dreamspinner Press
And all major retailers
________________________________________________________________________
 Beauty Inc. in French
Les contes de Pennymaker, numéro hors série
La beauté se limite-t-elle à notre apparence extérieure ?
Le docteur Robert Belleterre, surnommé Belle, a trois grandes passions dans la vie : les plantes, sa meilleure amie, Judy, et son "bébé" : un projet de nouvelle crème pour le visage qu'il a mis au point afin d'aider au développement du petit commerce de cosmétiques de son père.
Malheureusement pour lui, son père est un alcoolique notoire, accro aux jeux, et après une fatidique partie de poker durant laquelle il a parié son propre fils, Belle se retrouve à la merci de Magnus Strong, le PDG de Beauty Inc., la plus grande société de cosmétiques des États-Unis. Magnus Strong est réputé pour son apparence effroyable et son visage couvert de cicatrices, plus proche de la bête que de l'homme.
Du jour au lendemain, Belle est arraché à sa propre vie, et enfermé dans le gigantesque appartement d'un certain monsieur Pennymaker, un endroit à la décoration ahurissante. Très vite, et malgré lui, Belle développe une attirance incontrôlable pour le charismatique Magnus Strong. Révolté par ses propres sentiments, il les refoule avec force, mais plus le temps passe, et plus la bonté et l'humilité de Magnus lui font oublier son terrible visage. Et lorsque la famille de Belle décide contre toute attente de venir mettre son nez dans cette affaire, le destin se retourne contre lui et menace de faire voler en éclats le bonheur fragile qu'il a cousu avec sa tendre bête…
_____________________________________________
Audiobook Release — Fool of Main Beach
The Unlikeliest of Lovers. The Sweetest of Loves.
The fifth book in Tara's very popular Love in Laguna series, Fool of Main Beach, is now in audio. Read an excerpt HERE Many readers are calling it their favorite of the popular series so far!
____________________________________________________________
Super Popular in Audio!

Buy it at Audible
___________________________________________________________________
Volley Balls in Italian. Now Released.
Un libro della serie Spalle al muro
Una doppia dose di maschio alfa potrebbe essere meglio di una.
Sebbene appena reduce da una relazione violenta con un bastardo, lo sguardo curioso di David Underwood cade su due giocatori sexy della squadra di pallavolo australiana, a Laguna Beach, mettendolo di nuovo nei guai. Eppure, quando quello schianto di Gareth Marshall prova il proprio interesse per lui facendo coming out con la squadra, David soccombe all'attrazione per il pallavolista. Peccato che il partner di Gareth, Edge, attraente quanto il primo, farà della vita dei due amanti un inferno.
Per Gareth, tutto il tempo passato a celare il proprio orientamento sessuale – e la propria attrazione – dal suo migliore amico, Edge, nonché da tutte le altre persone intorno a lui, non fa che acuire le ferite e aumentare la frustrazione. David è il primo uomo che riesce a competere con Edge per la sua passione. Ma anche Edge ha un segreto, e l'ex-ragazzo di David non demorderà finché non riavrà David alla sua mercé. Con tutti questi ostacoli, riuscirà mai un uomo gay di Laguna a trovare la felicità con un maschio alfa… o due?
____________________________________________________________________________
Want to hear more from Tara Lain?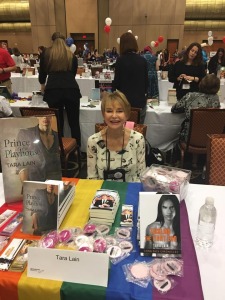 Sign up for her newsletter, Read the Beautiful Boys of Romance, full of news, exclusive contests, and early previews. Click HERE to subscribe.
A Fan? Become a Part of the Beautiful Dream Team. Help promote Tara's books and get special contests, prizes, first crack at ARCs, and more. Click HERE and ask to join the Team on Facebook.
 _______________________________