Hi everyone! 
I'm Tara Lain and I write The Beautiful Boys of Romance. I love all my characters, but especially my unique heroes. I write mostly MM romance with some MMF as well. I love the intensity, passion, lack of gender roles, diversity, and innate drama that accompany two men in love. Giving my guys their happy ever after is my favorite thing. I write serious themes with a light touch and readers often call my books "sweet" despite all the hot sex!  I believe in love and enjoy giving more of it to the world! Please say hi, ask questions, and make yourself at home!  : )
Invitation! Want to be in on special subscriber-only contests, get peeks at works before they even go to the editors, find out about events and drawings and hot new excerpts from great writers? Sign Up for my newsletter. My newsletter just won an All Star Award from

Constant Contact — the newsletter people. I'm honored and delighted because it means my subscribers like the newsletter i send. They open it and interact! Thank you! Come join us!

____________________________________________________________
____________________________________________________________
New and Exciting 

 
WOLF in GUCCI LOAFERS Blog Tour!
Today's Posts –
Apr. 16, 2014: Butorfleoge – Review
Apr. 16, 2014: Cherry Mischievous – Guest Post
Apr. 16, 2014: Jan Irving's Ephemeral Writings — Guest Post
April 16, 2014: Dirty Birdies
Apr. 17, 2014: (un)Conventional Bookviews – Review
Apr. 17, 2014: Night Owl Reviews – Promo
Apr.17, 2014: Rainbow Gold Reviews — Review
April 17, 2014: Viki Lyn — Guest blog
April 17, 2014: Smutmas — Blog
April 18th, 2014: For the Love of Bookends
April 18th, 2014: Friskbiskit
April 19th, 2014: Binding Addiction
April 20th, 2014: My Fiction Nook
April 21st, 2014: Scrollin Them Pages
April 21st, 2014: Buffy's Ramblings
April 22nd, 2014: Sofia Loves Books
April 23rd, 2014: Bookworm Bridgette's World
April 23rd, 2014: Just Jeannie's Books and Bling
See all the stops on the Wolf in Gucci Loafers Blog Tour and the  RAFFLECOPTER  posted on the CONTESTS Page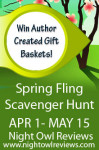 NOW!! The Spring Fling Scavenger Hunt at Night Owl Reviews! You could win Tara's Putting the WOW in Wolf basket! ENTER HERE.
________________________________________________
WOLF in GUCCI LOAFERS 
At AMAZON  Click HERE
from Dreamspinner Press. Click HERE!
From All Romance eBooks Click HERE

Socialite Lindsey Vanessen wants someone to love who will love him back—an impossibility for a gay, half-human, half-werewolf. Too aggressive for humans, too gay for wolves, and needing to protect the pack from human discovery, Lindsey tries to content himself with life as a successful businessman. But when someone starts kidnapping members of wealthy families, Lindsey meets tough cop Seth Zakowsy—the hunky embodiment of everything Lindsey wants but can't have.
 Seth has never been attracted to flamboyant men. What would the guys in the department think of Lindsey? But intrigue turns to lust when he discovers Lindsey's biting, snarling passion more than matches his dominant side. It might mean a chance at love for a cop in black leather and a wolf in Gucci loafers.
Do You Plan to read WOLF IN GUCCI LOAFERS? Please put it on your Goodreads To Read List! Click HERE!
________________________________________________________

from Dreamspinner!
Cole Harker, son of an alpha werewolf, is bigger and more powerful than most wolves,

tongue-tied in groups, and gay. For twenty-four years, he's lived to please his family and pack—even letting them promise him in marriage to female werewolf Analiese to secure a pack alliance and help save them from a powerful gangster who wants their land. Then Cole meets Analiese's half-brother, panther shifter Paris Marketo, and for the first time, Cole wants something for himself.
 When Analiese runs off to marry a human, Cole finally has a chance with Paris, but the solitary cat rejects him, the pack, and everything it represents. Then Cole discovers the gangster wants Paris too and won't rest until he has him. What started as a land dispute turns into World War Wolf! But the bigger fight is the battle between cats and dogs.
If you plan to read it, please post it on Goodreads to your TBR list. 
__________________________________________________________
Do You Love PRINT? THE PACK OR THE PANTHER & WOLF IN GUCCI LOAFERS is Available in a Two-Book Print Anthology
Order NOW from Dreamspinner  Click HERE!
_____________________________________________
Tara Lain Makes Football Fabulous! Announces New Three-Book Contract with Dreamspinner for Long Pass Chronicles
Tara Lain just announced signing of a three-book contract with Dreamspinner Press for a New Adult Gay Romance series set in the world of college and professional football. The books are titled Outing the Quarterback, Canning the Center, and Chasing the Tight End. They will be released by Dreamspinner in September and December of 2014 and spring of 2015. Tara says, "My books are strongly character driven and known for their unique, charismatic, and even quirky heroes. The new series, despite its football setting, is no different. My guys are struggling to find their own identities and to live authentic lives in an environment that doesn't necessarily encourage that exploration. I didn't set out to write a football series, but these young men told me their stories and I had to write them down." For additional information, visit the Press Room.
___________________________________________________________
FREE Novella Available from Tara Lain
Now Available at All Romance  eBooks! Also available at AMAZON for 99 cents.
New FREE Tara Lain novella is available as part of the Love Has No Boundaries event at Goodreads. It's called LOVE YOU SO HARD. Click HERE to access the new book which tells the story of Craig, who feels like he's bottoming in life and asks Jessie to teach him to top. Enjoy!
____________________________________________________________