Hi everyone! 
I'm Tara Lain and I write The Beautiful Boys of Romance. I love all my characters, but especially my unique heroes. I write mostly MM romance with some MMF as well. I love the intensity, passion, lack of gender roles, diversity, and innate drama that accompany two men in love. Giving my guys their happy ever after is my favorite thing. I write serious themes with a light touch and readers often call my books "sweet" despite all the hot sex!  I believe in love and enjoy giving more of it to the world! Please say hi, ask questions, and make yourself at home!  : )
Invitation! Want to be in on special subscriber-only contests, get peeks at works before they even go to the editors, find out about events and drawings and hot new excerpts from great writers? Sign Up for my newsletter. My newsletter just won an All Star Award from

Constant Contact — the newsletter people. I'm honored and delighted because it means my subscribers like the newsletter i send. They open it and interact! Thank you! Come join us!

____________________________________________________________
[print_thumbnail_slider]
____________________________________________________________
"If you haven't read any of Tara's work, you are missing out on a gem of MM romance. Fans of Amy Lane and Andrew Grey will appreciate both her contemporary and paranormal titles. Happily Ever Afters are guaranteed."
Portia du Moncur — MM Good Book Reviews
_____________________________________________
New and Exciting!
Tara Lain Books Win in LRC Best of 2016 Awards!
Two of Tara's books — Death Dancer and Spell Cat — took First Place in their categories in the Love Romances Cafe Best of 2016 Awards. Cowboys Don't Come Out was First Runner Up in Best Western/Cowboy and Tara was a Runner Up for Best Author of the Year. Thanks to LRC and all who voted!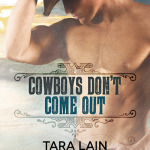 ____________________________________
Cover Reveal and Pre-Order Cowboys Don't Ride Unicorns. 
Tara's second cowboy book is almost here!
Pre-order HERE.
Cowboy Danny Boone—a name he made up one drunken night and has regretted ever since—harbors a big past and yearns for a small future. A short, bright career as a champion bull rider almost ended in his death when his homophobic father discovered Danny was gay. Now Danny longs for a plot of land he can build a ranch house on and enough money to make up for some of the education he missed.
Danny also hides a preference for beautiful femmes who like to top—a combo rarer than a unicorn. Then onto the guest ranch where Danny works drives San Francisco decorator Laurie Belmont, a young man so gorgeous he makes horses gasp, and so ballsy he almost kills Danny's attacker.
 Laurie's trying to find his way out from under the thumb of a domineering mother, helpless father, and rich, privileged boyfriend. But no matter the attraction, their lives are worlds apart, and cowboys don't ride unicorns.
For an excerpt — Click HERE!
_____________________________________________________________________
Fire Balls is Released !
Tara is delighted to announce the re-release of  the most popular book in the Balls to the Wall series, FIRE BALLS! You can order this book now HERE or at Amazon for other links, click HERE.
A Balls to the Wall Romance
Renowned artist Rodney Mansfield stands five foot six, has pink hair, six earrings, a black belt in karate—and a desperate yearning for firefighter Hunter Fallon. But Rod, the Runtback of Notre Dame, knows he'll never land the beautiful "straight gay" guy, so Rod musters his altruism and helps his more masculine friend Jerry attract Hunter. As if a broken heart wasn't enough, Rod saves Hunter from a firehouse homophobe—humiliating Hunter in front of his dad!
Hunter lives a dream life—his father's dream. While he'd like to teach literature in college, read poetry in the sun, and find a strong guy to top him, he fights fires for his dad. Hunter hates flamboyant guys like Rodney. So why can't he resist him? Maybe it's time to admit this is one flame he has no desire to put out.
________________________________________________________________________
Tara Lain's super popular novella released on January 11 — rewritten and expanded almost double in size!
Buy it NOW HERE
Amazon for other links, Click HERE
A Balls to the Wall Romance
A double dose of alpha male might be better than one.
Despite just getting out of an abusive relationship with an asshole alpha, David Underwood's wandering glance lands on two hot members of the Australian volleyball team on Laguna Beach and gets him harassed again. Still, when the delicious Gareth Marshall proves his interest by coming out to his team, David succumbs to his attraction. But Gareth's volleyball partner, Edge, who's equally hot, makes the lovers' lives miserable.
For Gareth, a lifetime of hiding his orientation—and his attraction—from his best friend, Edge, as well as everyone else around him, adds up to hurt and frustration. David's the first man to ever compete with Edge for Gareth's passion. But Edge has secrets of his own, and David's ex-lover will never be happy without David under his fist. With everything stacked against him, can a gay Laguna man find happiness with an alpha male–or two?
A "pumped up" version of the Volley Balls story, twice as long as the original.
_______________________________________________________________________
The first book in Tara's new Cowboys Don't Series will take you on a very unique cowboy adventure and love story — to the exotic world of the paniolo, the Hawaiian cowboy. Check out when the mainland and the islands meet!  Click HERE for an excerpt and Buy Links!
Buy at Dreamspinner
And more!!
Rand McIntyre settles for good enough. He loves his small California ranch, raising horses, and teaching riding to the kids he adores—but having kids of his own and someone to love means coming out, and that would jeopardize everything he's built. Then, despite his terror of flying, he goes on a holiday to Hana, Hawaii with his parents and meets the dark and mysterious Kai Kealoha, a genuine Hawaiian cowboy. Rand takes to Kai's kid brother and sister as much as he drools over Kai, but the guy sports more prickles than a horned toad, and more secrets than the exotic land he comes from.
Kai's earned his privacy and lives to protect his "kids." He ought to stay away from the big, handsome cowboy for everyone's sake—but since the guy's just a haole on a short vacation, how much damage can he do? When all of Kai's worst fears and Rand's darkest nightmares come true at once, there's not much chance for two cowboys who can't—or won't—come out.
______________________________________________________________________________
SPELL CAT is Released!!!
Winner Best Paranormal Romance of 2016!
For an excerpt, Click Here
Buy at AMAZON   Dreamspinner     B&N  Also at Kobo, iBooks and other retailers!
______________________________________________________________________
 DEATH DANCER by Tara Lain is RELEASED!
Tara's first ever murder mystery romance is here from Pride Publishing. Winner Best Mystery/Suspense of 2016!
Now available at Amazon
Pride Publishing  HERE.
A tattooed dancer and a by-the-book detective dance with death in the ego-fueled halls of ballet.
To read an excerpt, Click HERE
____________________________________________________________
 Available at Audible
The fourth book in Tara's popular Love in Laguna Series, Lord of a Thousand

Steps, is now available in Audio.  This is Ian's story — a May/August romance with cats and kids. It's one of Tara's faves.  What do you think of the new cover by the sensational Reese Dante?
AMAZON and ALL RESELLERS!
Click HERE for all Links
Also in Paperback
For an Excerpt and blurb, Click HERE
______________________________________________________________
Is beauty only skin deep?
Chemist Dr. Robert "Belle" Belleterre loves flowers, green trees, his best friend Judy, and "his baby": the new face cream he developed to help put his father's small cosmetics company on the map. Sadly he gets no help from his alcoholic, gambling-addicted father, who loses Belle in a poker game to Magnus Strong, the CEO of Beauty, Inc., the largest American cosmetics company – a man infamous for his scarred ugliness.
Belle finds himself uprooted from his home, living in a wildly crazy apartment in New York owned by Mr. Pennymaker, and completely unprepared for his mad attraction to the charismatic Strong. Feeling like a traitor, Belle fights his passion, only to see more and more of the goodness and humility hidden by Strong's ugly face. But when Belle's family starts manipulating his life again, the odds turn against happiness for beautiful Belle and his beloved beast.
_________________________________________________________________________________
Want to hear more from Tara Lain?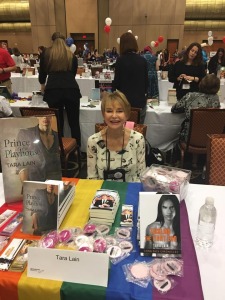 Sign up for her newsletter, Read the Beautiful Boys of Romance, full of news, exclusive contests, and early previews. Click HERE to subscribe.
A Fan? Become a Part of the Beautiful Dream Team. Help promote Tara's books and get special contests, prizes, first crack at ARCs, and more. Click HERE and ask to join the Team on Facebook.
 _______________________________