Hi everyone! 
I'm Tara Lain and I write The Beautiful Boys of Romance. I love all my characters, but especially my unique heroes. I write mostly MM romance with some MMF as well. I love the intensity, passion, lack of gender roles, diversity, and innate drama that accompany two men in love. Giving my guys their happy ever after is my favorite thing. I write serious themes with a light touch and readers often call my books "sweet" despite all the hot sex!  I believe in love and enjoy giving more of it to the world! Please say hi, ask questions, and make yourself at home!  : )
Invitation! Want to be in on special subscriber-only contests, get peeks at works before they even go to the editors, find out about events and drawings and hot new excerpts from great writers? Sign Up for my newsletter. My newsletter just won an All Star Award from

Constant Contact — the newsletter people. I'm honored and delighted because it means my subscribers like the newsletter i send. They open it and interact! Thank you! Come join us!

____________________________________________________________
[print_thumbnail_slider]
____________________________________________________________
"If you haven't read any of Tara's work, you are missing out on a gem of MM romance. Fans of Amy Lane and Andrew Grey will appreciate both her contemporary and paranormal titles. Happily Ever Afters are guaranteed."
Portia du Moncur — MM Good Book Reviews
_____________________________________________
New and Exciting!
Tara Lain's paranormal romance about a young witch with crappy powers who can't get a boyfriend who is called on to save the world with a paintbrush and a cat is now available everywhere. Lena Great at Rainbow Book Reviews says, "This book … presents us with an alternative hero. Sammy reminds us that everyone is special in their own way, and what might not seem like a big deal at the time, may be the biggest deal of all. I recommend this story to anyone with a romantic soul like mine, who believes that quiet strength is just as powerful as is overt strength. Thanks, Tara, for presenting us with such an inspiring story."  Dreamspinner Amazon iBooks
____________________________________________________________________
The third book in Tara's popular Balls to the Wall Series that takes place in Laguna Beach, CA, releases on May  8th and can be purchased NOW. Link HERE. Tara says, This is an enemies-to-lovers book. I got to write a lot of underwater action, including an underwater love scene. You would have laughed as i sat at my computer, holding my breath, trying to decide just exactly how hot my guys could get  without benefit of oxygen! LOL"
For more links and an excerpt, click HERE
____________________________________
Tara Lain's Fantastic New Champagne Cocktail of a Book is Coming! Order Now!
Luca McGrath may be returning to Napa Valley, California as a promising chef with dreams of starting his own restaurant and winery, but his heart still lives with bad-boy billionaire's son, James Armstrong. Luca spent his childhood playing games with the golden boy of California society, so blinded by James he barely noticed the dark, quiet lure of his conservative older brother, Dylan Armstrong.
But now, Luca's home and his own powers of attraction are enough to make James question his dedicated heterosexuality and his promised marriage to a wealthy and powerful businesswoman. The obvious attraction between Luca and James spurs Dylan into action—but he's fighting a huge secret. While Luca dreamed of James, Dylan dreamed of Luca. When Luca gets caught in the struggle between the brothers and gets accused of culinary espionage he's ready to chuck the fairy tale—unable to even imagine Dylan's power to make his dreams come true.
____________________________________________________________________________
Tara's second cowboy book is  here!
Cowboy Danny Boone—a name he made up one drunken night and has regretted ever since—harbors a big past and yearns for a small future. A short, bright career as a champion bull rider almost ended in his death when his homophobic father discovered Danny was gay. Now Danny longs for a plot of land he can build a ranch house on and enough money to make up for some of the education he missed.
Danny also hides a preference for beautiful femmes who like to top—a combo rarer than a unicorn. Then onto the guest ranch where Danny works drives San Francisco decorator Laurie Belmont, a young man so gorgeous he makes horses gasp, and so ballsy he almost kills Danny's attacker.
 Laurie's trying to find his way out from under the thumb of a domineering mother, helpless father, and rich, privileged boyfriend. But no matter the attraction, their lives are worlds apart, and cowboys don't ride unicorns.
For an excerpt and buy links– Click HERE!
_____________________________________________
Cowboys Don't Come Out now in Audio!
Rand McIntyre settles for good enough. He loves his small California ranch, raising horses, and teaching riding to the kids he adores – but having kids of his own and someone to love means coming out, and that would jeopardize everything he's built. Then, despite his terror of flying, he goes on a holiday to Hana, Hawaii, with his parents and meets the dark and mysterious Kai Kealoha, a genuine Hawaiian cowboy. Rand takes to Kai's kid brother and sister as much as he drools over Kai, but the guy sports more prickles than a horned toad and more secrets than the exotic land he comes from.
Kai's earned his privacy and lives to protect his "kids". He ought to stay away from the big, handsome cowboy for everyone's sake – but since the guy's just a haole on a short vacation, how much damage can he do? When all of Kai's worst fears and Rand's darkest nightmares come true at once, there's not much chance for two cowboys who can't – or won't – come out.
Available now at Audible
___________________________________________________________
Want to hear more from Tara Lain?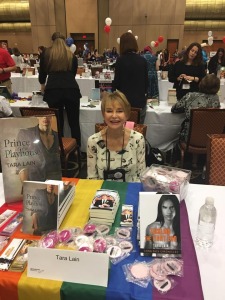 Sign up for her newsletter, Read the Beautiful Boys of Romance, full of news, exclusive contests, and early previews. Click HERE to subscribe.
A Fan? Become a Part of the Beautiful Dream Team. Help promote Tara's books and get special contests, prizes, first crack at ARCs, and more. Click HERE and ask to join the Team on Facebook.
 _______________________________