Equal Rights Blog Hop with Tara Lain
Welcome to the Equal Rights Blog Hop! I'm Tara Lain and i write the Beautiful Boys of Romance. I'm so glad you came to celebrate equality on this weekend of independence for America.
I'm giving away a $5 GC and a copy of any of my LGBT books (which is all of them except one) to one person who comments on my blog, so please tell me what you like best about gay romance! Then go back to the Hop Central and enter to win all the great grand prizes. To do that, answer this question:
What is Trelain going to wear for his wedding to Daniel and Mac?
The answer is below. 
When i signed up for the Hop, i agreed to tell you what i like best about being a member of the LGBT community. At first i hesitated. After all, i'm a heterosexual female. Could i claim to be a member of the community? I hope and believe the answer is yes. I write gay romance that is read by people gay and straight — and many of them are women. These are women who either today or someday might have sons and daughters who are gay or transsexual And on that day that their child comes out, i hope my books help give them the perspective and the joy to appreciate their children with open arms.
I give my beautiful boys a happy ending, and that's a very important function in a world that doesn't always do the same. I'm happy and proud that in my lifetime things really have gotten better. But there is so much more to do! I live in California and, while i'm delighted that Prop 8 was overturned, i'd be so much prouder if Californians had kicked that asshole proposition to the curb. I'm happy that DOMA was thrown out — but how terrible that it ever existed and what a fight there will be to finally get equal rights accepted in every state. I may not be able to do much — but i can raise my voice in my books and in person and say Love is Love! And i'm happy i get to do it.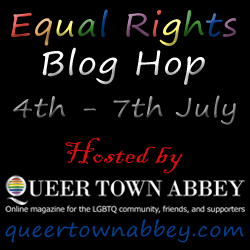 Here's a favorite scene of mine from Golden Dancer. This is a MMM menage so not your everyday relationship, but still, i think this scene might translate.
Mac, the reporter, has just come back from the Middle East —
Before he'd left, he'd given his okay on anything they wanted to do, and obviously they'd taken him at his word. The event was only a couple weeks away. They wanted to enjoy some downtime before Trelain had to start rehearsing the new season. It wasn't that Mac objected. He just wasn't absolutely sure he got it. There were three of them. They were all men. Who was going to take this seriously? He shrugged, ran his fingers through his still-damp curls, and walked into the bedroom.
The two loves of his life were, as he expected, sitting up in bed, wearing their robes — both of theirs silk, which Daniel had clearly known wouldn't feel comfortable for Mac. They had large pieces of paper and a tablet computer in front of them.
Trelain looked up, beaming. "Come and see, darling. Come and see."
The delight spilling from the dancer's pores was infectious, so Mac crawled on the bed with a grin. "Okay, you guys, lay it on me."
Trelain hopped up on his knees in a move that would have been impossible for most humans. "Okay, here's the deal. You two can opt for comfort if you choose. Mac, you can do this in cargoes, and Daniel can wear board shorts, and we can get you both some nice matching shirts. Silk or even Hawaiian."
Mac looked at Daniel. Yeah, right. Mac asked the obvious question. "Is that what you want us to wear, Trelain?"
The dancer shrugged. "This is your ceremony as much as mine. I want you both to have what you want."
Daniel nuzzled his ear, pushing aside the golden mane. "Sweetheart, Mac and I want to wear something that will make all your friends jealous that they don't have us. What would that be?"
Right before Mac's eyes, his golden dancer became a beautiful girl. The lashes fluttered. "Well, you could both wear black silk tuxedoes that you could have made for you by that wonderful tailor. And I could wear a white tuxedo, if you wouldn't mind."
Daniel leaned back against the headboard. "Sounds perfect. Mac?"
Yeah, it did sound perfect, if it was what Trelain dreamed of. "If Daniel has the tux made, I won't even mind wearing it all evening."
Trelain fell back on the bed, kicking his feet like a little kid. Of course, some big-kid balls got revealed in the meantime. "Oh, perfect. Perfect." He made another spring to sitting. "Now, Mac, look at the seating plan, okay? We don't want to put people together who might not get along." He spread out the big sheet of paper that looked a bit Greek to Mac. "What do you think about Debbie and some of your Laguna friends at the same table as some of my friends from the Company? They're all interesting. And I was thinking of putting Woo with a few of Daniel's business chums, because they would be great supporters of the Web site, and she'd find them interesting, but I could put her with Debbie if you think that's better."
Mac's head spun. Debbie, Woo? "Uh, no, I think the first way is better. Then they won't talk shop to each other."
Trelain pointed to another area on his floor plan. "Now, for the head table… Well, it won't really be head. It will be a round table and placed amid the others so we can all talk. But anyway, at our table, of course, we'll have your folks and my mum. I think they will all get along well and…"
Mac just stared.
Trelain touched his arm. "Mac?"
"My parents? You invited my parents?"
Daniel cocked his head. "Of course. They're planning on coming out the week before to help with any last-minute plans. I'm going to fix up your cottage a little, if you don't mind, and they can have the place to themselves…"
"My parents! They're coming here? They wanted to come?"
Trelain rested a hand on Mac's cheek. "Of course, darling. They want to see their son get married."
Married. The tears that had threatened at the airport poured down his cheeks. Married. He was getting married. Nothing more. Nothing less. The loneliness. The hopelessness. No more. All the trials and problems and joys and ecstasy that married people shared, he got to have.
Daniel wrapped him in his arms. "Are those happy tears?"
Mac nodded, his head buried in Daniel's shoulder.
"Well, okay then."
When Daniel released Mac, he fell back on the bed, half crying and half laughing. "How many people are coming to our ceremony?"
Trelain shrugged with a look that could only be described as guilty. "Well, we wanted to keep it to a small group, but so many people wanted to come, and we couldn't leave any out…"
"How many?"
Trelain grinned. "Three hundred."
Mac held his stomach and laughed. Three hundred people were coming to his wedding. Three hundred people took this unconventional, unlikely, unsanctioned, and nearly unimaginable relationship seriously enough to want to come and celebrate with them. Or maybe they just wanted to drink Daniel's champagne. He didn't give a shit. He was happy. For the first time in his twenty-seven years, truly happy.
Thank you so much for coming to say hi. Remember to tell me what you like about gay romance and you'll be entered to win a $5 GC and your choice from my books. Now, go visit all the great people in the Hop and enter for the grand prizes!
And here's a video i LOVE. Enjoy!