Tara Lain Celebrates Her 50th Book with a Party —You're Invited
Hi! This week, my 50th book was published— it's called THE FAIRY SHOP — and we're celebrating with a party this coming Saturday, December 7th.
Fifteen of your favorite authors will be chatting, sharing books, and bringing fun prizes and giveaways. The party runs from 9 to 5:30 EST but, of course, you can come by any time on Saturday, Sunday, and Monday to enter the prize posts. So if you'd like to join in, all you have to do is come join my Reader Group, HEA, Magic, and Beautiful Boys.
Come party with KC Burn, Eli Easton, Jodi Payne, Victoria Sue, Jaime Samms, ZA Maxfield, Amy Lane, Sean Michael, Kieran Kelly, Alexa Land, BA Tortuga, Julia Talbot, Andrew Grey, Kindle Alexander, Lisa Oliver, and me!
See you there! Hugs!
Join the Group
Become a part of HEA, Magic and Beautiful Boys, the Tara Lain Reader Group! Share your love of Tara Lain books with other readers around the world.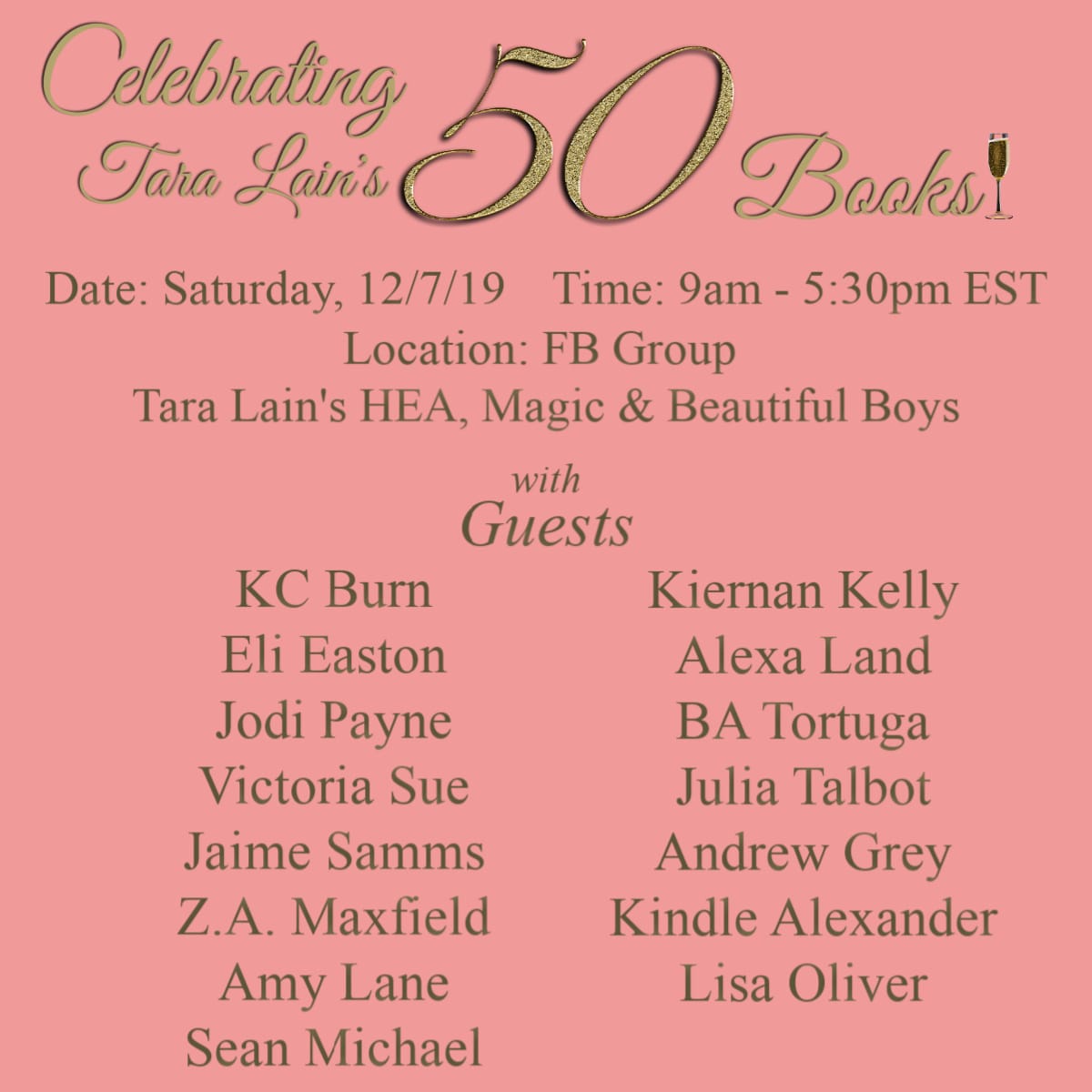 When Nate Hawthorne meets Asher Dane, the huge, tattooed hunk is the personification of Nate's dreams. But Nate knows there's no future, because Asher is also the personification of his beloved five-year-old daughter Delly's nightmares. She's frightened of big men. Things turn around for both of them, however, when Delly goes Christmas shopping at the Fairy Shop and begins her quest for a wand that will make her brave. Neither of them guesses that the Fairy Shop will be the source of far more than Delly's courage. On Christmas Eve, under the influence of a very unusual fairy, Nate's life will change forever.
A story from the Dreamspinner Press 2019 Advent Calendar "Homemade for the Holidays."
5 Stars
Delly will win your heart and Nate and Asher will show you that sometimes, all it takes is a little faith and a willingness to take a leap of faith. This is a perfect short, holiday story.
Available at Dreamspinner Press and leading online retailers