Fabulous COVER REVEAL! Two New Contemporary Fantasies, HOLDING HANS and BILLY AND THE BEAST
Coming September 29, 2020
Hi and welcome to this doubly fantastic cover reveal. I have exciting news for those who have read or heard about the new series, Ever After, New York. Ever After, New York is a mysterious town in our modern world in which everything that happens is based on fairy tales. You may have read the first book that tells an exciting and scary modern retelling of Red Riding Hood called BETTER RED.
Well, today I'm thrilled to announce the next two books in the Ever After, New York Series – HOLDING HANS by Tara Lain and BILLY AND THE BEAST by Eli Easton.
These stories share some characters, but since they're based on different fairy tales, they can be read completely stand alone and in any order.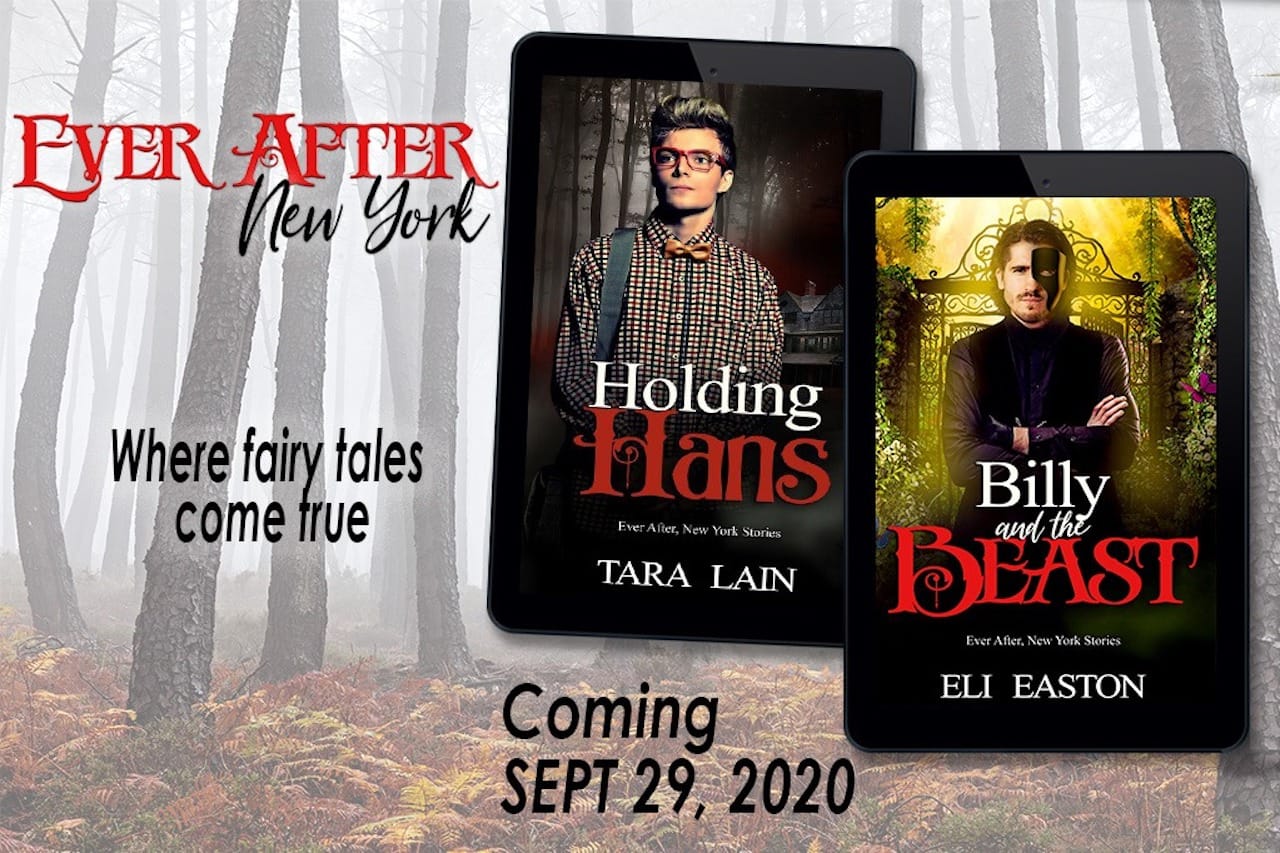 HOLDING HANS is a coming-of-age, hidden identity, dysfunctional family, fairy-tale-retelling, contemporary fantasy romance – with really good food.
Note: Though themes are handled delicately and appropriately for a fantasy, the book may have trigger potential for sensitive readers.
How much evil can you cook up in one small town?
When your father gets wonky, marries a weird woman, and runs off to Europe, leaving you and your twin holding the bag for the bills, what else can you do but –
Sleep a night in the forest,
Follow a trail of pebbles to a strange mansion,
And succumb to the attraction of cinnamon rolls, the world's most beautiful piano, and Madame, the strange woman who gives you your dreams for next to nothing.
But fairy tales teach one lesson –
–when things are too good to be true – run!
Hans Meyer finds that out the hard way, when he wakes up tied to a bed in the dark. Even Rune, the cute guy who buys him root beer floats, isn't who he seems.
Can piano power, twin power, and a healthy dose of love power overcome the darkness and finally make Hans happy in Ever After?
BILLY & THE BEAST is a contemporary retelling of Beauty and the Beast that features a rich playboy recovering from a near-fatal accident, a web of dark secrets and gaslighting, a gothic estate, a happy Labrador retriever, and a plucky young man who adores mysteries & monsters.
It is part of the EVER AFTER, NEW YORK series of contemporary gay romance fairy tales, but it can be read as a stand-alone.
One stolen rose leads Billy to the Beast of his dreams
The rose was so perfectly pink, and it was just within reach inside the locked gate.
One snip later, and a masked man from Billy's darkest fantasies grabbed his arm.
Billy's punishment? To toil in the estate's horribly overgrown garden for the summer.
Only this summer job came with a mystery. Who was the sexy, scarred, irascible man who lived at Malfleur, and what dark secret from his past was he hiding?
The Beast believes he deserves his self-imposed exile for the crime he committed one awful, reckless night—a night he can't even remember.
He believes no one could love the ruin of a man that survived that cursed accident.
He didn't count on Billy Martin.