Wolf in Gucci Loafers
The most flamboyant of werewolf heroes meets his match in a tough human cop
The billionaire, socialite, playboy — werewolf.
Socialite Lindsey Vanessen wants someone to love who will love him back — an impossibility for a gay, half-human, half-werewolf. Too aggressive for humans, too gay for wolves, and needing to protect the pack from human discovery, Lindsey tries to content himself with life as a successful businessman. But when someone starts kidnapping members of wealthy families, Lindsey meets tough cop Seth Zakowsy—the hunky embodiment of everything Lindsey wants but can't have.
Seth has never been attracted to flamboyant men. But intrigue turns to lust when he discovers Lindsey's biting, snarling passion more than matches his dominant side. It might mean a chance at love for a cop in black leather and a wolf in Gucci loafers.
Available in Paperback and Kindle Format
Release Date: April 27, 2020
Tara Lain Books
210 pages
Excerpt from Wolf in Gucci Loafers
"Lindsey, what's wrong?"
"Nothing, sir. I'm doing well."
"Come talk to me." His grandfather turned and walked into the living room.
Did he want to talk? He'd have to be careful, but yes. Pop-Pop was a smart man. He walked down the stairs and into the large, comfortable room. His grandfather sat on a love seat at one end of the room, so he took the identical seat across from him. He leaned back and crossed his legs. Look relaxed.
Pop-Pop sat forward. "Romantic troubles?"
Wow. The old man had a way of diving to the truth. "Not exactly."
"I heard you had a date with the Westerberg son. Your mother's doing, I believe." The old man could have been talking about a date with a girl, he was so comfortable with it.
"Yes, sir."
"Did you like him?"
"Well enough."
"Ah, so he's not the issue."
Lindsey grinned. His grandfather was enjoying the guessing game.
"So if it's not exactly romantic troubles, what exactly is it?"
"I guess you could call it unrequited romantic interest."
He rubbed his hands together. "Now this is interesting. I've seen you with many men over the years since you returned from school, but none of them lasted more than a few dates, and none of them ever sparked what I would call romantic interest. How odd that you should affix your affection on one who doesn't care about you. Have you considered it might be a form of self-protection? Only wanting the ones you can't have has a way of keeping you single."
Lindsey grinned. "I guess that's possible sometimes, but not in this case. He's just highly inappropriate. A tough cop I met while helping Dave with the kidnapping issue. Dave asked if I would take him to the polo match to give him a chance to investigate among people we know without being too obvious. So I did it." Lindsey shrugged.
"And got caught in your own trap."
He smiled, but it hurt around the edges. "Yes, I guess. I found him attractive from the start but assumed he was straight, so it was just a harmless flirtation. After the match, I found out he's gay, so that made the vast expanse between us more real."
Pop-Pop frowned. "It's not like you to discriminate based on class."
"Nothing like that, sir. He's the one discriminating, I'm sure. I'm simply not at all his type. A bit too lavender silk for his black leather, shall we say."
His grandfather steepled his fingers and stared over them. "You're not just one thing, Lindsey. I've know many men in my life and you're one of the very best. Smart, decisive, action-oriented, kind, and basically good. Unlike your father, I might add. You need a man who sees that. But you've got good judgment, so if you think this cop is romance-worthy, then my bet is there's something there worth pursuing. Ride him down, son!" He laughed that big robust sound that had comforted Lindsey since the day he was born.
What People Are Saying About Wolf in Gucci Loafers
5 Stars!
I loved the book and believe that lots more of you will too. Fans of the first book, if you loved Lindsey in volume one of the series, you'll love him even more in this one. I highly recommend this story to everyone, even if you don't think you like werewolves and shape-shifters, but want to read about two strong, determined men who fall madly in love and have to figure out how to overcome obstacles placed between them.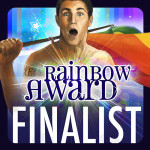 Wolf in Gucci Loafers took SECOND PLACE in the 2014 Rainbow Awards for excellence in LGBT literature — Best Paranormal Romance.
9 Pots of Gold!
Yet when they stopped fighting it, the heat they caused, well it was epic.  They did face the few bumps in the road to get to each other and it only made their relationship that much stronger.
4 1/2 Stars!
You just started reading and got caught up.  I hated that I actually had to do some work as it took me away from reading this story.  There were some nice sexy, dominant, growly, rough smexy times!!  It was HOT!!!  Be Prepared!!
4.5 Stars
The sex sizzles, the tension crackles and the plot snaps! I read it all it in one sitting, just like I did Cole and Paris' story and I reckon I'll be doing exactly the same with the next in the series.
5 Stars!
I love that Tara can bring a different perspective to each genre she writes in, which is why I'm such a biased fan, but I'm happy to admit that!
A great read and likely one of my favorites for 2014.
Join the Group!
Become a part of HEA, Magic and Beautiful Boys, the Tara Lain Reader Group! Share your love of Tara Lain books with other readers around the world.