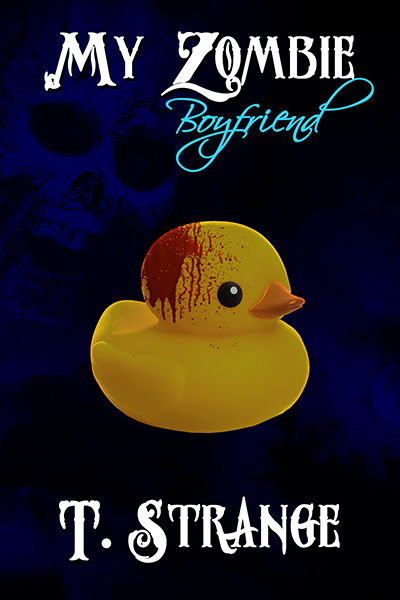 Hi. When my friend Will Parkinson told me about this upcoming cover reveal i raised my hand and said, "Me! Me! I want to reveal it." LOL. Who could resist? Note the Rafflecopter below where you have a chance to win a copy of My Zombie Boyfriend!
Author Name: T. Strange
 Book Name: My Zombie Boyfriend
 Release Date: April 15, 2015
Blurb:
Edward Grey is a medical student by day, necromancer by night. He lives alone with the first zombie he ever raised, his childhood cat, Boo. Edward's life is simple: studying medicine, training his necromantic powers with his mentor, Mariel, and having weekly dinners with his parents. When he finds a very attractive corpse in a park and brings it home to reanimate, he accidentally creates a sassy, free-willed zombie who believes Edward is the one who murdered him.
With no memory of his former life, Edward names the zombie Kit and tries to win his trust. Kit slowly adjusts to his new un-life with Edward's help, though he's still suspicious of Edward's role in his death and is convinced that Edward is hiding his former identity. Edward is very attracted to Kit, but understands why Kit doesn't trust him. As they become closer to one another, Kit turns to Edward for comfort and love. The fragile trust they've built together will be tested when Kit unexpectedly regains his memory and seeks revenge on his murderers.
Excerpt:
Kit took one look at the concoction and raised his eyebrows in disbelief and disgust. "What is that supposed to be?"
"It's your food. Mmm! Delicious, brains! Zombies love brains!" I could see right away that I had gone too far.
"I am not a dog or a child, Edward. And I don't appreciate your stereotyping."
Oh, great. I had offended a zombie. What a schmuck. "I'm sorry, Kit. Won't you at least try it?"
"Is that a slice of brain?"
"…yes. Technically. It's not human!"
"Oh, it's a brain, but it's not human. That makes it all better. What's in the rest of it?"
"The rest of the cow?" No, this was not going at all well. I pleaded. I cajoled. I begged.
He poured it down the sink.
Sales Links: http://www.torquerebooks.com/index.php?main_page=product_info&cPath=200&products_id=4379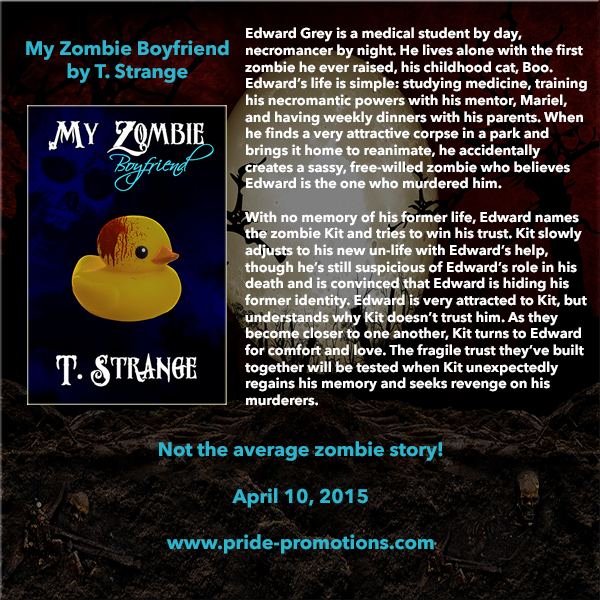 About the author:
My Zombie Boyfriend is T. Strange's first full-length novel, though she has published several shorter works with Torquere Press. When not writing, T. enjoys gardening, spending time with her horse, and, of course, reading. T. lives in Canada with her wife, surrounded by pets.
Where to find the author:
Facebook: https://www.facebook.com/tq.strange
Facebook Author Page: https://www.facebook.com/AuthorTStrange
Twitter: https://twitter.com/TqStrange
Pinterest: http://www.pinterest.com/tqstrange/
Other: https://www.goodreads.com/author/show/3334999.T_Strange
Other: http://tqstrange.tumblr.com/
Other: http://www.torquerebooks.com/index.php?main_page=index&manufacturers_id=464
 Goodreads Link: https://www.goodreads.com/book/show/25143660-my-zombie-boyfriend
Publisher: Torquere Press
Cover Artist: B. S. Clay
Thank you for visiting! Remember, you can pre-order my upcoming release, KNIGHT OF OCEAN AVENUE HERE.