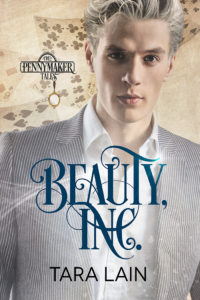 Woohooo! Beauty, Inc. of the Pennymaker Tale series is now available in French! This is my homage to Beauty and the Beast in contemporary, gay romance parlance. Every Pennymaker Tale is a standalone book, united only by one character — Mr. Pennymaker. They can be read in any order.
Les contes de Pennymaker, numéro hors série
La beauté se limite-t-elle à notre apparence extérieure ?
Le docteur Robert Belleterre, surnommé Belle, a trois grandes passions dans la vie : les plantes, sa meilleure amie, Judy, et son "bébé" : un projet de nouvelle crème pour le visage qu'il a mis au point afin d'aider au développement du petit commerce de cosmétiques de son père.
Malheureusement pour lui, son père est un alcoolique notoire, accro aux jeux, et après une fatidique partie de poker durant laquelle il a parié son propre fils, Belle se retrouve à la merci de Magnus Strong, le PDG de Beauty Inc., la plus grande société de cosmétiques des États-Unis. Magnus Strong est réputé pour son apparence effroyable et son visage couvert de cicatrices, plus proche de la bête que de l'homme.
Du jour au lendemain, Belle est arraché à sa propre vie, et enfermé dans le gigantesque appartement d'un certain monsieur Pennymaker, un endroit à la décoration ahurissante. Très vite, et malgré lui, Belle développe une attirance incontrôlable pour le charismatique Magnus Strong. Révolté par ses propres sentiments, il les refoule avec force, mais plus le temps passe, et plus la bonté et l'humilité de Magnus lui font oublier son terrible visage. Et lorsque la famille de Belle décide contre toute attente de venir mettre son nez dans cette affaire, le destin se retourne contre lui et menace de faire voler en éclats le bonheur fragile qu'il a cousu avec sa tendre bête…
Order your copy at Dreamspinner Press
If you read in French, I hope this will be a treat!