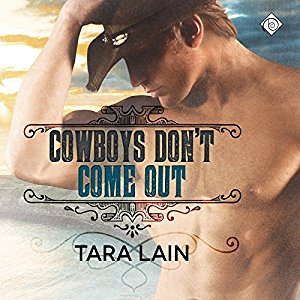 Hi — One of my most popular books — Cowboys Don't Come Out — is on special sale for a few days as a holiday surprise. It's $1.99 and it's usual retail price is $6.99. Time to grab it. It's a cowboy love story that takes place at the holidays in Hawaii! Right, you haven't read one like it before. LOL And if you like audio, you can add-on the audible narration by the great KC Kelly for a very small addition.
Cowboys Don't Come Out  —  Amazon
And other retailers
Rand McIntyre settles for good enough. He loves his small California ranch, raising horses, and teaching riding to the kids he adores—but having kids of his own and someone to love means coming out, and that would jeopardize everything he's built. Then, despite his terror of flying, he goes on a holiday to Hana, Hawaii with his parents and meets the dark and mysterious Kai Kealoha, a genuine Hawaiian cowboy. Rand takes to Kai's kid brother and sister as much as he drools over Kai, but the guy sports more prickles than a horned toad, and more secrets than the exotic land he comes from.
Kai's earned his privacy and lives to protect his "kids." He ought to stay away from the big, handsome cowboy for everyone's sake—but since the guy's just a haole on a short vacation, how much damage can he do? When all of Kai's worst fears and Rand's darkest nightmares come true at once, there's not much chance for two cowboys who can't—or won't—come out.