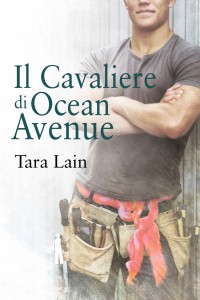 Hi — Do you read in Italian or know someone who does? I'm excited to say that my novel Knight of Ocean Avenue has been translated into Italian and is now available as Il Cavaliere di Ocean Avenue (Storie d'amore a Laguna Vol. 1)
I'm equally happy to say that as i'm writing this, the book is #470 in the Italian Kindle store and #206 in Romance. It's only been released a few hours so this is very encouraging.
Here's the link to Italian Amazon  and to the book on US Amazon
Here's the blurb in Italian —
Un libro della serie Storie d'amore a Laguna
Come si fa ad avere venticinque anni e non sapere di essere gay? È una domanda che Billy Ballew preferisce evitare. Ha lasciato presto il liceo, a malapena capace di leggere fino a quando non ha imparato come autodidatta. Con il suo lavoro da muratore ha aiutato i genitori e contribuito a far studiare le sorelle al college. Fa l'allenatore per una squadra di baseball della Little League e cerca di non pensare ai tre fidanzamenti falliti. Il terrore che prova quando deve sostenere degli esami gli impedisce di ottenere la licenza da impresario che tanto desidera, e la paura del giudizio di sua madre gli impedisce di vedere ciò che potrebbe davvero renderlo felice.
Fino a quando, durante i preparativi per il grande matrimonio della sorella, non incontra Shaz – Chase Phillips – uno stilista emergente che incarna la parola gay. Agli occhi di Shaz, Billy possiede tutto ciò che ha sempre voluto in un uomo: forza, onestà, coraggio. Ma anche se Billy fosse gay, probabilmente non riuscirebbe a sopportare lo scandalo che scaturirebbe dall'uscire con una diva come lui. Come possono due uomini con così poco in comune trovare un modo per stare assieme? Lo Stilista dell'Anno coronerà la sua storia d'amore con il Cavaliere di Ocean Avenue?
I have a lot of translated books including Knight, which is currently available in French, German and Italian as well as English. If you'd like to know the translation status for any of my books, just post a comment. :  )