Cowboy's Don't Series
Horse breeders, cowhands and bull riders – Yeehaw! – mix up the romance on the McIntyre Ranch
Tara Lain does cowboys – cowboys from Hawaii, cowboys from Brazil, and mostly cowboys from Chico, California who all explore what it means to be gay while wearing chaps and looking for happy ever after. Short on words and long on action, these gorgeous cowboys find love in the back of a car or on the back of a bull in these three popular contemporary cowboy romances.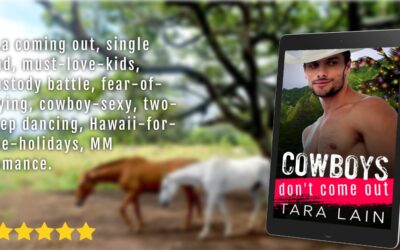 The Cowboys are here, the Cowboys are here. You may know that I've written three contemporary cowboy romances. This first book, COWBOYS DON'T COME OUT, is a unique western that will take you on a vacation trip at the same time it shares a deeply felt romance, and a lot of hot sex in unusual places.
read more
[/db_pb_signup]
Join the Group!
Become a part of HEA, Magic and Beautiful Boys, the Tara Lain Reader Group! Share your love of Tara Lain books with other readers around the world.