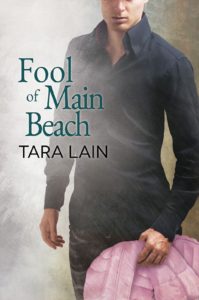 Hi —
I'm so delighted that so many people seem to be excited about the upcoming release of Fool of Main Beach, the new book in the Love in Laguna series. You can check out some details of the book HERE, Here is the Universal Link — books2read.com/u/bpWWJ9
I thought i'd share an exclusive excerpt from the book that gives you a view of my very unique hero, Tom Henry.  First, check out the blurb, and then this excerpt —
Merle Justice wants to reach for the stars, but it's tough to get respect when playing a teenybopper vampire on TV. Then he meets a famous director anxious to give him all he thinks he wants—and maybe a bit more. Everything's looking up until a life-threatening encounter with some homophobes on Main Beach puts Merle face-to-face with a Sasquatch-sized hero in a pink puffer coat.
Tom Henry defies description. As unsophisticated and simple as an angel, he walks through life content with who he is and asking for very little except to care for his sister, Lily, and the dogs he loves. Then he meets Merle, the embodiment of dreams he barely knows he has. Merle knows the people who hold his future in their hands might love Tom—but they'll never understand Merle and Tom together. Tom knows it too. With lives this far apart, who's really the fool of Main Beach?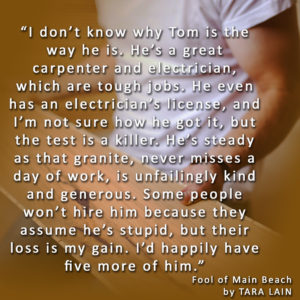 Standing on top of a tall ladder that stretched all the way to the room's vaulted ceiling was a man—a huge man—bare to the waist and showing off rippling muscles on a mouth-watering, awe-inspiring, sweat-producing back, which the guy had turned to Merle. He was reaching up, apparently installing an electrical outlet for the modern chandelier that would eventually go there, a posture that accentuated his narrow waist and round, bulging buttocks. A hard hat covered his head, and he wore a tool belt jangling with equipment. The smell of leather and steel in the morning.
"Do you like the room?"
Oh right, Billy's still here. Quickly Merle glanced around at the huge window facing the ocean, the barnwood installed on the feature wall that would go behind the bed, and the, uh, almost chandelier. "It's fantastic, Billy. I love it."
"Come see the closet and the bathroom."
"Can't wait." His eyes crept up the ladder; then he turned to follow Billy.
"Hey, Merle."
What? He glanced toward the voice. Billy stopped behind him.
"Hey. Up here."
Merle's gaze rose up the ladder rung by rung, muscle by muscle, until be looked into the grinning face of Tom Henry. For a second the whole scene felt out of context. "Hi, Tom."
"How come you came? I would have talked to Ru if I needed anything."
Billy said from behind him, "Merle? You know Tom?"
Merle glanced over his shoulder, then back up the ladder. "Yes. Remember I told you a guy intervened last night and saved me? It was Tom."
"No shit. Hey, Tom, good job saving my friend, Merle."
For a second Tom looked confused, and then a slow grin spread across his face. "Merle's your friend too? That's so cool. Do you have dogs?"
Merle glanced at Billy, who gazed at Tom with the obvious patience of a man who didn't mind dealing with him. "No, no dogs. I have cats, Tom."
He clambered down a couple of rungs. "You do? Can I see them?"
"Sure. We'll work that out. They live at my house with me and Shaz."
"I'll bet they love Shaz. Who wouldn't?"
"I agree."
Tom shifted focus to Merle. "So we're both friends with Billy."
Merle's heart beat oddly hard. "Yes, we are."
"How did you know?"
"I didn't."
"But you're here."
"This is my house, Tom."
"What?"
"This house is mine. Billy's renovating it for me, and I'll be moving in to it."
He smiled. "Wow. This is so pretty."
"I'm glad you like it." Oddly true.
"That means I'm working on your house?" It didn't seem like Tom's face could have lit up any more, but it did—crinkles and dimples and bright blue eyes.
"Yes. That's really great, since Billy only uses the best people."
A crease popped between his brows. "Oh right. I better get back to work so you have a good outlet."
Tom reclimbed the ladder and balanced himself, the massive muscles in his back and shoulders flexing in the bright morning light.