Hi – –
Here's a wonderful opportunity to stock up on great reads for the late summer! Dreamspinner Press is having a Labor Day Sale offering 30% Off on the entire store! That means you can get my newest release and my upcoming release at great prices.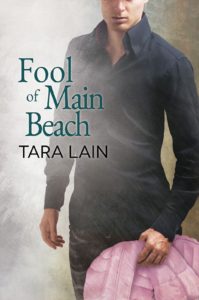 Fool of Main Beach –– This book has been a Bestseller since before it released and is still #3 on the Dreamspinner Bestseller List — https://www.dreamspinnerpress.com/books/fool-of-main-beach-by-tara-lain-8782-b
Merle Justice wants to reach for the stars, but it's tough to get respect when playing a teenybopper vampire on TV. Then he meets a famous director anxious to give him all he thinks he wants—and maybe a bit more. Everything's looking up until a life-threatening encounter with some homophobes on Main Beach puts Merle face-to-face with a Sasquatch-sized hero in a pink puffer coat.
Tom Henry defies description. As unsophisticated and simple as an angel, he walks through life content with who he is and asking for very little except to care for his sister, Lily, and the dogs he loves. Then he meets Merle, the embodiment of dreams he barely knows he has. Merle knows the people who hold his future in their hands might love Tom—but they'll never understand Merle and Tom together. Tom knows it too. With lives this far apart, who's really the fool of Main Beach?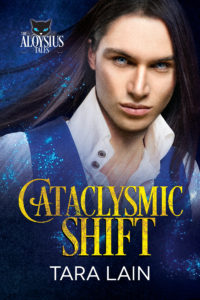 Cataclysmic Shift — This is a re-release of a book in my Aloysius Tales. It has witches, and a shifter, and the world's coolest cat. It's on pre-order and releases on Sept 13th. Great time to get the best price. — https://www.dreamspinnerpress.com/books/cataclysmic-shift-by-tara-lain-8841-b 
Aloysius, the magical black cat and powerful witch's familiar, isn't afraid to go into battle to protect his master, but the outcome of the fight turns his feline world upside down. A direct hit of magic steals not only his memories and power, but even the body he's lived in for several centuries. When he wakes up naked on the floor of a veterinarian's office, it isn't as the cat Aloysius, but as the sixteenth-century French gentleman Alain Bellarose. And when Alain sees sexy and enigmatic veterinarian Luke Elliott, he decides he'll make the best of his time as a human.
Luke is a man with secrets who generally prefers the company of animals—though the flamboyant boy who washes his face with the side of his hand and tries to lick his own privates might prove an exception.
Meanwhile, Witch Master Killian Barth and his secret weapon, Sammy, struggle without Aloysius's power to draw on. Two evil females are circling, and seeing the coven's weakness, they're about to move in for the kill. When Alain's memories return, he's faced with the ultimate dilemma: protect his community or stay with the man he loves.
All of my books are on sale here – https://www.dreamspinnerpress.com/books/searchresults?q=Tara+Lain That includes all my translations with the upcoming German translation of Volley Balls. And Dreamspinner has so many great authors, you'll find reading that will last you until the snow flies! : )