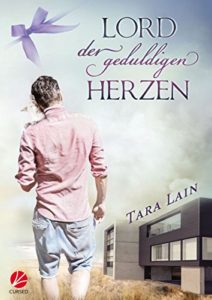 Hi! Do you read in German? I'm so delighted that the entire Love in Laguna series is now available in German translation. They've been published by German publisher Cursed Verlag. The latest is Lord of a Thousand Steps, titled  Lord der geduldigen Herzen, which translates as Lord of the Patient Hearts. All the books have brand new covers which are really yummy too. Here's the English translation of the German blurb —
The architecture student Ian Carney means everything. After being ejected by his father at eighteen because of his homosexuality, he longed to found a family with his partner Rico. But Rico has to go to Mexico to look after his sick father, and then there is also Ian's stunning boss, Braden, who with his two children has a very special attraction on Ian. When it turns out that Rico is not as much at home as I thought, Ian finds a shoulder to lean in Braden. And perhaps even more?
Here's the book on American Amazon.
And on German Amazon.
Here's a look at the other titles and covers — listed in reverse order.
Here's a secret. There will be a fifth Love in Laguna book coming in 2017. It's called Fool of Main Beach and maybe, if i'm super lucky, it might get translated into German someday!