Welcome to Big Backlist Weekend! This is a special event I post every month or so where I ask a wonderful author to come and join me in giving away a copy of an ebook from their backlist.
My guest today is my dear friend, KC Burn! I just got to hang out with her at RT and had such a good time. Kc is also a brilliant writer and one of her most popular books ever is North on Drummond. I think you'll see why.
I'm giving away an ebook copy of Brush With Catastrophe, the second book in the The Aloysius Tales Series. I loved writing this book because it involves a geeky nerd, a favorite type of hero for me, and he's an artist. Some of my most loved heroes are artists. I studied both painting and collage and love bringing those details to my stories.
Here's your chance to win one or the other of our books. Just enter on the Rafflecopter below and watch for Big Backlist Weekend with special guests every month.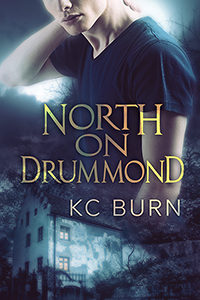 North on Drummond
by K.C. Burn
Blurb: 
Sandy Bottom Bay, Florida – Come for the Haunts, Stay for the Beaches! Drew Drummond might call himself a psychic tarot reader, but he doesn't believe in the supernatural. The business was left to him by his grandmother, and seemed the best way to rise above the chronic criminal behavior of the Drummond family. Despite his efforts, few of the townspeople consider him a good romantic match. Being gay only makes finding love more difficult. When Cliff Garcia, Drew's teenaged crush, moves back to town and joins the police force, Drew doesn't think he has a chance. After all, the skeptical cop considers Drew's profession on par with professional con men, and Cliff had spent his entire school career feuding with Drew's volatile brothers. Despite the obstacles, Drew and Cliff begin a fiery relationship. Just when Drew starts to believe they might have a chance, he suffers a head injury and begins having visions of the future. If Drew tells Cliff the truth, he'll lose the man he's falling for, but keeping his new ability a secret is no longer an option. If he can't convince Cliff he's for real, a murderer will walk free.
Available for purchase at
Kindle | Amazon Paperback | Audible | Nooks | Kobo
Excerpt

 A rapping sound, subtly different than the constant throb in his head, caught Drew's attention. Was someone knocking at his kitchen door?
"Is anyone here? Drew? Kyle?"
Ah, so Cliff was here. Drew waited a moment, but he didn't hear Kyle respond.
Drew pulled in a deep breath and forced himself to project his voice. "Come on in. The door's open."
Or he assumed it was. When he was home, he didn't usually lock the door. Not only did he have very little worth stealing, no one in town was that stupid. Despite last night's fiasco, his brothers were very protective of him, and from the explanations he'd been given, his concussion was a result of that. An accident of timing. Probably a good one, truth be told. Brett Cavanagh with a broken jaw would mean jail time for one or both of his brothers, whereas Drew with a concussion had been able to keep them safe. Although he still suspected there would be some harsh words exchanged next time Cliff came across either of them.
A muffled thump and a squeak told Drew Cliff had placed something heavy on the floor next to the kitchen table.
"Where are you?"
It was a good question. Where was Kyle? How long did it take to get rid of a client?
"In here." This time Drew's voice was quieter.
Cliff peered into the bathroom like he was doing a perp check— was that even what it was called? He'd only ever seen it on Law & Order when the cops busted into some suspect's home; he'd never seen firsthand what happened when any of his relatives had been arrested.
In seconds, the wary cop became the concerned cop as Cliff knelt beside Drew.
"Are you okay? Did you fall? How's your vision? I can call an ambulance."
The barrage of questions had Drew blinking in shock, unable to answer any questions fast enough, but he reached out a hand to stop Cliff from pulling out a cell phone.
"I'm fine." Drew let out a chuckle but stifled it quickly. "I just stopped here to rest a bit in the cool, and then I guess I dozed off."
"And Kyle left you here like that?" Anger made Cliff scowl, and like a flash of lightning, Drew had his first insight into Cliff the man. One he should have twigged to earlier, but morphine was going to be the scapegoat for a lot of things. Cliff had a temper. Drew didn't recall seeing signs of it in the teenaged Cliff, nor did he feel at all threatened, but a temper. He'd have to remember that.
"Well, he can't exactly lift me up."
Cliff's scowl eased up not at all. "Then he should have texted me instead of going off God knows where and leaving you here on the floor."
Another laugh escaped, and this one didn't feel like knives dancing in his brain, which was a big improvement. "God and I happen to know he's just in the front room, getting rid of a walk-in client. He's coming right back."
"Oh." This time Cliff's angry expression faded. "A client. Funny, I guess I never asked what you do for a living."
Drew had no trouble interpreting the odd grimace on Cliff's face. He'd seen it more than once. What did a Drummond do for a living aside from lie around drinking beer, or stealing shit and causing trouble?
About The Author
KC Burn has been writing for as long as she can remember and is a sucker for happy endings (of all kinds). After moving from Toronto to Florida for her husband to take a dream job, she discovered a love of gay romance and fulfilled a dream of her own — getting published. After a few years of editing web content by day, and neglecting her supportive, understanding hubby and needy cat at night to write stories about men loving men, she was uprooted yet again and now resides in California. Writing is always fun and rewarding, but writing about her guys is the most fun she's had in a long time, and she hopes you'll enjoy them as much as she does.
You can find KC Burn at
Website | Facebook | Twitter | Amazon | Goodreads | Newsletter
(The Aloysius Tales Series, #2) 
Sammy Raphael is a crappy witch, and on top of that, he can't seem to get a boyfriend. Where other supernaturals can bring down lightning and manifest wealth, Sammy can paint. Granted, the "prophetic" paintings he creates at night always come true, but they never predict anything important. Sammy feels like a total loser with a worthless ability.
One night he paints a gorgeous guy who turns out to be his secret crush, the human Ryder, but Ryder's changed so much he's almost unrecognizably beautiful. Then Sammy paints an angel who turns out to be a witch. But is that witch also a devil—a devil who can bring down Sammy's whole community and everyone he loves? And why the hell does Ryder keep changing? Aloysius, the black cat familiar, always backs a winner. So why is he backing Sammy?
This is a 2nd Edition of BRUSH WITH CATASTROPHE
Available for purchase at
Excerpt

Sammy looked down into the soup. "That's the only kind of guy who would ever be interested in me. A cheating rat."
"Sam, that's not so."
His voice shook. "Why the hell do you think he even bothered with me to begin with? What would he want with a stupid loser if he was planning on cheating with half the fucking college?" The tears squeezed out and started to drip down his cheeks.
Ryder put the tray on the dresser and wrapped Sammy in his arms. "You're not a loser at all. You're one of the finest people I've ever known. You're kind and funny and so smart. You paint like a master. Even if you do pick strange subject matter sometimes." Ryder chuckled and nodded toward the painting on Sammy's easel.
"You saw that?" Sammy snuffled. Maybe if he didn't move too much Ryder would forget to let him go.
"Hard to miss that painting in a room the size of most closets."
Pretty embarrassing. But compared to having had your energy drained by a cheating pig and your neck chained by the selfsame bastard while you were blacked out, painting a picture was small potatoes in the shame department.
"Ready to sleep?"
No. "Yeah." Sammy pulled the pillows out from behind him and lay back down. Al crawled up next to him. His eyelids felt weighted. "Thank you so much for taking care of me. I'll rest tomorrow, and I should be able to go to school on Monday."
"Yes, you'll rest tomorrow, and I'll see that you do. I'm not going anywhere. I want to make sure that asshole doesn't come back. I'll sleep on your couch and be here to take care of you in the morning."
Sammy shook his head. "No way a human can sleep on that couch. Aloysius won't even do it. It has lumps the size of Everest. I'll be fine. Really."
"Not leaving, so forget about it."
Sweeter words were never spoken. I don't want to be alone. He opened his eyes a slit. Ryder gazed down at him. That expression. He remembered it—from the painting. His deep eyes. So soft. So much like love.
A thick fog of exhaustion rolled over Sam, and his eyes wouldn't stay open. "Sleep in the bed with me and Al. We don't move much. Sleep here… prommmmissse…."
Giveaway