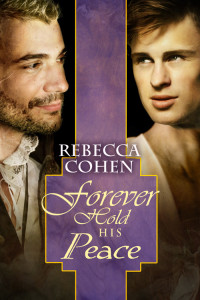 Hi all–
Thank you for coming to say hi to my guest, Cherise Sinclair, on Big Backlist Weekend! Winners will be announced today on the homepage and by email.
Now, please welcome back Rebecca Cohen with her new book in The Crofton Chronicles, FOREVER HOLD HIS PEACE. Rebecca is giving away a copy of the book, so please enter on the Rafflecopter. And read on, because every stop on the Tour has its own unique excerpt, so visit lots of stops to get an exciting view of this delicious new book.
Blurb: Sebastian Hewel has never been happier. But his life playing the role of his twin sister Bronwyn, the wife of Anthony Redbourn, Earl of Crofton, is about to change. Rumors abound that Bronwyn is using witchcraft to enthrall her husband, and false evidence has been found. Practicing witchcraft is a crime that could have Bronwyn brought in for questioning by the sheriff, and that would reveal Sebastian and Anthony's secret.
Together they must decide whether it is time to lay Bronwyn to rest. Anthony intends to ensure that whoever implicated Bronwyn pays for the treacherous deed. Whatever happens, Sebastian and Anthony must prepare to face an unknown future together.
Excerpt:
"There are rumors about everyone at court. You would not believe the time people devote to talking about each other. And most of it should be forgotten," said Manning.
"Does that mean there are rumors about Lady Crofton?" asked Anthony.
"Ever since she stepped foot in court, rumors have followed Lady Crofton like a pet dog—but any woman married to you would have attracted the same."
"Anything we should be troubled by?" pressed Anthony.
Manning put his tankard down. "No, well, not really. You caused a smattering of gossip when you threw Lady Florin out of Crofton Hall, and a few loose tongues have said Lady Crofton must have cast a spell on you to keep the wild Lord Crofton in check."
"A spell? As in witchcraft?" asked Sebastian.
"Or possibly they'd seen A Midsummer Night's Dream once too often," said Manning. "Listen to me, gentlemen. No one is pointing fingers. There are rumblings, but that is normal. If I were you, I would put it from your minds and forget them."
Available at DREAMSPINNER PRESS   also in PAPERBACK

Author Bio:
Rebecca Cohen is a Brit abroad. Having swapped the Thames for the Rhine, she has left London behind and now lives with her husband and baby son in Basel, Switzerland. She can often be found with a pen in one hand and a cup of Darjeeling in the other.
Blog: http://rebeccacohenwrites.wordpress.com/
Twitter: https://twitter.com/R_Cohen_writes
Facebook: https://www.facebook.com/rebecca.cohen.710
DSP author page: http://www.dreamspinnerpress.com/store/index.php?cPath=55_462
Amazon author page: http://www.amazon.com/Rebecca-Cohen/e/B007UEFIXS/ref=ntt_athr_dp_pel_1
a Rafflecopter giveaway

Tour Stops:
June 23: Hearts on Fire, Parker Williams
June 24: 3 Chicks After Dark, MM Good Books
June 25: Amanda C. Stone, Pants Off Review
June 26: Love Bytes, Iyana Jenna
June 27: Havan Fellows, Kimi-Chan, LeAnn's Book Reviews
June 30: My Fiction Nook, Tara Lain
July 1: Nephylim, Cate Ashwood
July 2: Jade Crystal, Scattered Thoughts & Rogue Words
July 3: Elisa Rolle
July 4: The Hat Party
July 7: Prism Book Alliance