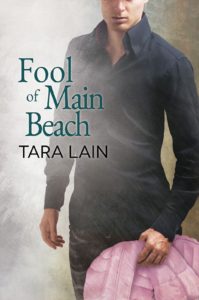 Hi — I'm happy to say that Fool of Main Beach received a 5 Heart review on Love Bytes Reviews and so is nominated for Book of the Week. A bunch of great books are nominated. Would you Vote? HERE?
In here review, Christie said, "To be completely honest, I had a hard time writing this review. Not because I disliked the book (because, I loved it to pieces). It's the fact that the first few drafts made me seem like a complete fangirl instead of a professional. I even messaged Tara to let her know of my difficulties, while trying to write it. Actually, the message I sent to her said: "You're definitely getting [a review] from me, as soon as I can string a coherent sentence together that consists of more than "ZOMG, TARA LAIN IS THE MOST AMAZING AUTHOR ON THIS PLANET AND YOU MUST BUY ALL HER BOOKS NOW!" Well, okay, I had to fangirl a little. If you're a fan of her or her books, can you blame me? At any rate, Fool of Main Beach was an excellent addition to the Love in Laguna series, and I definitely recommend reading it as soon as you can."
Needless to say, i was very honored to receive such an amazing review. If you get a chance to vote, I'd so appreciate your consideration. Vote HERE. 
Thank you for coming by! BTW, if you haven't entered the Fool of Main Beach blog tour giveaway, you can do it HERE.