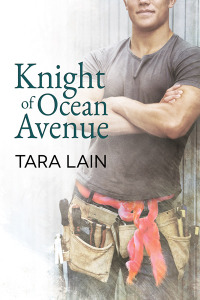 Hi —
You may know that my most popular book is Knight of Ocean Avenue, the first book in my Love in Laguna series. Right now, Amazon has it featured as a Book of the Month and priced at $1.99! This is a great time to grab it if you've missed this story. Here's the LINK.
How can you be twenty-five and not know you're gay? Billy Ballew runs from that question. A high school dropout, barely able to read until he taught himself, Billy's life is driven by his need to help support his parents as a construction worker, put his sisters through college, coach his Little League team, and not think about being a three-time loser in the engagement department. Being terrified of taking tests keeps Billy from getting the contractor's license he so desires, and fear of his mother's judgment blinds Billy to what could make him truly happy.
Then, in preparation for his sister's big wedding, Billy meets Shaz—Chase Phillips—a rising-star celebrity stylist who defines the word gay. To Shaz, Billy embodies everything he's ever wanted—stalwart, honest, brave—but even if Billy turns out to be gay, he could never endure the censure he'd get for being with a queen like Shaz. How can two men with so little in common find a way to be together? Can the Stylist of the Year end up with the Knight of Ocean Avenue?
This book is also available in Audio, and in French, German and Italian. If you'd like to read an excerpt, Click HERE.
Also remember, you can still enter to win in my Cowboys Don't Ride Unicorns Blog Tour, but act quickly. Click
HERE.
Thank you for visiting!