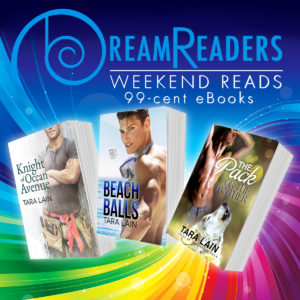 LIMITED TIME ONLY!
Dec. 6, 2017 – Dec. 8, 2017
Grab your copy of
KNIGHT OF OCEAN AVENUE
BEACH BALLS
THE PACK OR THE PANTHER
for only 99 Cents each at Dreamspinner Press!
Hi! I'm actually on vacation, but i'm happy to tell you I'm leaving some special weekend reads behind. Move fast and grab your copies. Knight of Ocean Avenue is a super bestseller and if you haven't read it, don't miss it. Beach Balls is in the Balls to the Wall series and will give you a taste of my Laguna boys (Check out my new release, High Balls, HERE), and if you're a paranormal fan, The Pack or the Panther will introduce you to a super fun world of werewolves. Enjoy!
Knight Of Ocean Avenue
(Love in Laguna Series, Bk #1)
By Tara Lain

Blurb: 
How can you be twenty-five and not know you're gay? Billy Ballew runs from that question. A high school dropout, barely able to read until he taught himself, Billy's life is driven by his need to help support his parents as a construction worker, put his sisters through college, coach his Little League team, and not think about being a three-time loser in the engagement department. Being terrified of taking tests keeps Billy from getting the contractor's license he so desires, and fear of his mother's judgement blinds Billy to what could make him truly happy.
Then, in preparation for his sister's big wedding, Billy meets Shaz—Chase Phillips—a rising star, celebrity stylist who defines the word gay. To Shaz, Billy embodies everything he's ever wanted—stalwart, honest, brave—but even if Billy turns out to be gay, he could never endure the censure he'd get for being with a queen like Shaz. How can two men with so little in common find a way to be together? Can the Stylist of the Year end up with the Knight of Ocean Avenue?
Purchase KNIGHT OF OCEAN AVENUE for only 99 Cents here!
Beach Balls
(Balls to the Wall Series, #3)
By Tara Lain
Blurb:
Adam James is so far in the closet he could find Narnia. As an attorney for the homophobic WMA Development, he can't come out without risking the million-dollar paycheck waiting for him once they push their big land development deal through the city council—money that will finally allow Adam to live according to his own terms. Then, on an early morning scuba dive, Adam meets a tall, lean rebreather diver named Sky who makes him want to hug a tree.
Sky Sea Mickeljohn stands for the environment, world peace, and being openly gay. He won't compromise his principles for anyone—even the damned lying developer lawyer he can't help lusting after. True, the WMA land development deal could put thousands of people at risk, but Sky still wants to risk his heart. In the fight between freedom and integrity, is there a place for love?
Purchase BEACH BALLS for only 99 Cents here!
The Pack or the Panther
(Tales of the Harker Pack Series, #1)
By Tara Lain
Blurb:
Cole Harker, son of an alpha werewolf, is bigger and more powerful than most wolves, tongue-tied in groups, and gay. For twenty-four years, he's lived to please his family and pack—even letting them promise him in marriage to female werewolf Analiese to secure a pack alliance and help save them from a powerful gangster who wants their land. Then Cole meets Analiese's half-brother, panther shifter Paris Marketo, and for the first time, Cole wants something for himself.
When Analiese runs off to marry a human, Cole finally has a chance with Paris, but the solitary cat rejects him, the pack, and everything it represents. Then Cole discovers the gangster wants Paris too and won't rest until he has him. What started as a land dispute turns into World War Wolf! But the bigger fight is the battle between cats and dogs.
Purchase THE PACK OR THE PANTHER for only 99 Cents here!