One of Tara's readers recently sent a message and asked (insert plaintive sound) "What are you working on? I can't find it anywhere!" That was the kick in the posterior Tara needed to add an In Progress Page to the Website. 
____________________________________________________________
Coming Soon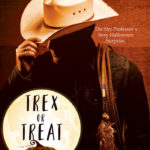 October 31st — Tara's sexy Halloween short story, Trex or Treat, will be rereleased by Dreamspinner Press. You can preorder now. Check the book page HERE
2019 begins with some big books Tara's been working on for a while —
Timing on the release of book one in Tara's new series, The Superordinary Society, is not yet nailed down. The book is in editing. This is a new type of book for Tara — kind of Harker Pack meets Harry Potter — and Tara has been working with the great editor, Brenda Chin, on bringing it to fruition. The book is called Hidden Powers. Watch for it!!
March 2019 — The second book in the Middlemark Mysteries will be released — The Case of the Voracious Vintner. The handsome winemaker introduced at the end of The Case of the Sexy Shakespearean get's his own romance and his own mystery, working closely with the shy professor, Llewellyn Lewis.
April 2019 — The third book in Tara's popular series, Cowboys Don't, continues with Cowboys Don't Samba. Maury Garcia, the bull riding champion who we met in Cowboys Don't Ride Unicorns meets up with a beautiful Brazilian and the rest is romance!
 On the Horizon!
Maybe, just maybe, readers will get a rerelease of Tara's award winning menage series, Genetic Attraction. 
Expect a fourth book in the favorite Love You So series coming sometime in 2019.
Tara recently moved to Ashland Oregon and is thinking up a new series to take place in her new home town.
Tara can't wait to dive into book 2 of the Superordinary Society
____________________________________________________________
In the Brain!
The brain is packed! But lots of ideas are percolating. Watch this space.