Hi. This is Tara. Thank you for stopping by the blog. I'm on vacation right now — the first longer-than-a-weekend vacay I've taken in years that didn't include writing workshops. While I'm gone, I invited a bunch of my friends — some of your fave authors — to stop by and share their news and new releases. I know you'll love it. Enjoy. Talk soon. : )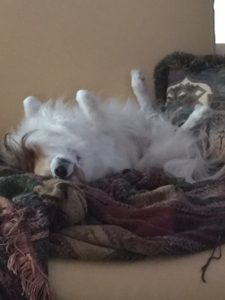 Please welcome author Charlie Cochet!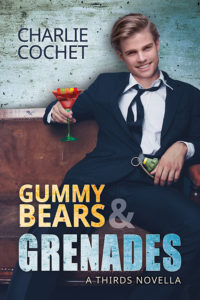 Gummy Bears & Grenades
(A THIRDS Novella, #9.5)
By Charlie Cochet
Blurb:
THIRDS agent Dexter J. Daley can't wait to marry his fiancé, Team Leader Sloane Brodie, but first he's looking forward to celebrating his bachelor party—which he intends to be a shenanigans-free evening of getting his groove on with family and friends.
Of course events don't work out as planned, but for Dex that's nothing new. One thing is for sure, dodging drug dealers and hired thugs amid booze, dancing—and even a bear costume—will guarantee it's a night Dex will never forget. Now he just needs to survive all the fun.
Enjoy this bonus story from the THIRDS universe. These events occur between Darkest Hour Before Dawn and Tried & True in the series timeline. While reading this story would enhance your experience of the THIRDS series, it is not necessary to read before Tried & True.
Available to purchase at
Kindle | Amazon (Paperback Combo) | Kobo | iTunes | Dreamspinner Press
 Excerpt
Sloane let out a loud belch and laughed. "That tasted like lemonade." He frowned as it struck him. "Fuck, I'm so wasted.""I don't care if you're in a coma. You're finishing this damn game." Tony motioned to the air hockey table. "Move your ass, Brodie. You're not winning this time."
Wait. Sloane peered at Tony and thrust a finger at him. "You purposefully got me drunk so you could win. Dex told me I shouldn't play air hockey with you."
"Yeah, he also told his sixth-grade teacher that he couldn't take his math test because numbers were against his religion."
Sloane snorted vodka and lemonade through his nose and almost choked. He coughed and sputtered, wiping his nose and mouth with his arm as Tony laughed his ass off. "You couldn't have waited until I'd finished drinking to say that?"
"And miss your impression of a sprinkler?"
"Why aren't you drunk?" Sloane narrowed his eyes at Tony, who'd had almost as many drinks as Sloane had. Why was he so sober?
Tony shrugged. "Clearly I can hold my liquor better."
"Bull. Shit."
Tony arched an eyebrow at him, and Sloane marched over to him. He grabbed Tony's glass off the edge of the table, sniffed it, then took a sip.
Sloane gasped. "This is just lemonade! I've been bamboozled!"
Tony reached into his back pocket and pulled out his wallet. He took a ten-dollar bill and held it up to Sloane. "I will give this to you if you say bamboozled again."
"You are a crafty bastard." Sloane snatched the bill from Tony's hand.
"Bamboozled." Ignoring Tony's cackle, Sloane shoved the bill into his back pocket. He should have known the man would be sneaky. He was Dex's dad after all. Sloane grinned smugly. "Doesn't matter, I still kicked your ass. Like, eight times," he said, glaring at his hands when he counted seven fingers. He put one more finger up. "Eight."
Tony eyed him. "That booze is making you bold."
Sloane nodded. "It is."
"So you gonna put your money where your mouth is and play? Or you afraid you're gonna get your tail whipped? I'm sure Dex will make it all purrrfect."
Sloane eyed him. There was something Tony wasn't telling him. "Why did you say it like that?"
"What?" Tony frowned. "I was just saying that Dex knows how to make it all better." A wicked gleam came into his dark eyes.
Purrrfect.
Sloane's jaw went slack. He shook his head. "No."
Tony's smile was terrifying. "Oh, yes."
  About the Author
Charlie Cochet is an author by day and artist by night. Always quick to succumb to the whispers of her wayward muse, no star is out of reach when following her passion. From adventurous agents and sexy shifters, to society gentlemen and hardboiled detectives, there's bound to be plenty of mischief for her heroes to find themselves in, and plenty of romance, too!
Currently residing in Central Florida, Charlie is at the beck and call of a rascally Doxiepoo bent on world domination. When she isn't writing, she can usually be found reading, drawing, or watching movies. She runs on coffee, thrives on music, and loves to hear from readers.If you'd like to connect with Charlie, just drop her an email, or find her on Facebook, Twitter, Goodreads, and Google Plus.