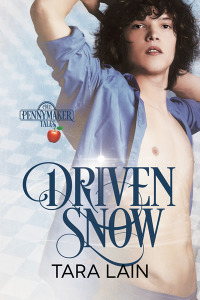 Please note: The Pennymaker Tales are contemporary romances based on fairy tale tropes. They are each completely stand alone and are united by a single character — Mr. Pennymaker. They can be read in any order. 
Young Snowden "Snow" Reynaldi is brilliant, beautiful, and alone. Though he's shy, weird, and tolerated by the NorCal University students because he's a renowned whiz at chess and helps put the school on the map, that doesn't keep him from dreaming of the object of his desires, Riley Prince, championship quarterback.
When Riley needs a physics' tutor, Snow jumps at the chance, and their relationship heats up—but Riley has to come out of the jock closet to get anywhere. Meanwhile, Snow's one true friend and mentor, Professor Kingsley, marries a woman who secretly wants the chess tournament glory and money for herself. Soon after, the professor collapses and Snow finds himself underwater—literally. In a car!
Seven frat brothers from Grimm College rescue Snow just in time for his life to get even worse, and Snow discovers the one relationship he always wanted slipping away. With evil looming at every turn, Snow must survive if only to prove he's the fairest of them all and regain the trust of his handsome prince.
___________________________________________________________________________________________
What People Say!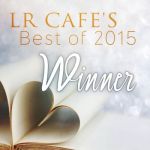 DRIVEN SNOW Won the LRC Award for Best Urban Fantasy of 2015!
Lexxie at UnConventional Book Reviews says — 5 Stars!
"The writing in Driven Snow is spotless, and the story unfolded beautifully! Strong characters and a solid plot made reading this story a pleasure. Character-driven and with quite a bit of suspense, I was at the edge of my seat as the evil stepmother made her play to become not only the fairest in the country, but also the new master when it came to chess."
Susan and Morgan at The Blogger Girls say — 5 Stars!
Susan –"I picked up this book because I am a huge fan of this author; and that's it. The cover didn't grab me, the blurb didn't grab me, and I was hard pressed to see how a nerdy chess master and a college football quarterback could breathe new life into the tried and true college athlete vs nerd theme. But I was wrong. There was so much to this story, so much depth and plot and characterization that I was actually hard pressed to even put it down. And I didn't put it down until I finished it."
Morgan — "If you put aside your "this is real?" doubts, and just take it for what it is – a fun, fantastical tale with a nod toward the old story – you will fully enjoy it! It's a New Adult title, so steamy, but not over the top. Tara Lain is a fantastic writer and this was a fun new look at the old fairy tale. I loved it and highly recommend it."
Bec at Bike Book Reviews says — 5 Stars!
"I enjoyed this book sooooo much, and it is the perfect second book in the enchanting Pennymaker tales! I love that these stories have hints of  fairy tales but weave a magic all their own! … You guys have to read this book! It isn't all fairytales and roses, but the power is in the storytelling, and the ending makes dealing with the bad guys worth it! Thanks Tara, for a wonderful addition to a lovely series indeed!"
Alan at Sinfully MM Book Reviews — 5 Stars!
"There's no way to describe "Driven Snow" without using the word "charming". This book is a delight, and I keep picturing the author bent over her word processor, grinning ear-to-ear as another clever absurdity morphs from her fervent imagination into committed words on the page. This is not a "serious book". This is not a "message" book – though all fables, at heart, are allegories, this one included. This book is intended for one thing and one thing only – to deliver pure, unmitigated reading pleasure and the talented Tara Lain succeeds beyond my wildest expectations."
Sassy Beta Reading and Review says — 5 Stars
"I become emotionally attached to the characters and I hated for their story to end. There was heart ache, heart break, deception, redemption, romance and some pretty hot naughty yum yum bits as well 🙂 This can be read as a stand alone. All in all, another great read by Tara. Would I recommend this book? Absolutely!!!  Would I read more from this author? Absofreakinlutely!"
_________________________________________________________________________________
Buy It!
Universal Link — books2read.com/u/mqzY59
Dreamspinner Press  —
eBook: http://www.dreamspinnerpress.com/store/product_info.php?products_id=6955
Paperback: http://www.dreamspinnerpress.com/store/product_info.php?products_id=6956
_________________________________________________________________________________
Additional Formats
Driven Snow is novel length and also available in print paperback from most outlets.
Driven Snow is available in audiobook format from Audible
___________________________________________________________________________
Excerpt!
Snow nodded. "Now, this is pretty basic, but we can get a lot more sophisticated." He scratched out a slightly more complex set of calculations, and Riley seemed absorbed.
"Man, this is so dope."
"Glad you like it."
"Wish Jenkins could make physics so interesting."
"You have to create the excitement for yourself. See the potential."
Riley looked up. "You make it exciting." He smiled slowly. "You make everything exciting."
"M-me?" Snow's brain froze.
"Yeah. Why do you think I come see you play all the time? It's like plugging into the solar system and catching the stars in my hand."
"S-stars are gas."
"The planets, then. I've wanted to tell you this for a while. I think you're—"
The sound of a key in the lock brought both their heads up.
Nooooooo.
Like some cosmic joke, the apartment door opened and beautiful, perky, perfect Courtney Taylor walked in. "Oh, hi. Are you two still studying? Oh my gosh, Snow, you must be magic or something. No one could ever get him to study physics before. I told him, 'You have to do it, baby. The team can't do without you. Find a way to learn this shit.' And what do you know? He found you. Amazing." She walked over, pushed Riley's head back, kissed him on the lips, and plopped down in his lap. "Did you learn a lot, baby?"
Her knee bumped Snow's thigh, and he leaped up like he'd been shot. "Oh gosh, look at the time. Better get back to work myself. Have to study for the tournament and all." Sweet God, he had to get out of there.
Riley stood Courtney on her feet and stepped over beside Snow. "When can you help me again? I've only got two weeks. I made so much progress today. I know you're busy, and I hate to ask, but could you please—"
"Yes, of course. Just text me, okay?" He ripped out the pages they'd been working on, shoved the notebooks into his backpack, and headed for the door. He seemed to be running from everyone these days. "Bye. Bye, uh, Courtney."
Outside the door, he clambered down the steep staircase and stopped at the bottom just to breathe.
What were you thinking, you idiot? That somehow his girlfriend had magically transformed into a teapot?
He started to tell me something. He said he's wanted to tell me for a long time.
What are you dreaming? That he suddenly quit being straight and is attracted to a wimpy little queen like you? Spare me.
Okay. Okay.
The door to Eudora's apartment flew open, and a hand emerged, holding a glass. "Hey, cutie. Have some water."
Like it was perfectly normal to accept water while standing in hallways, he grasped the glass and drank the liquid down. Amazing how much better he felt.
She took the empty glass. "Lessons for the day. Don't sell yourself short. And don't believe everything you see. Got it?"
"I… I guess so."
"Good." She patted his cheek, and then the door closed behind her. If a caterpillar suddenly appeared saying "Who are you?", he wouldn't be even slightly surprised.