Is beauty only skin deep?
Chemist Dr. Robert "Belle" Belleterre loves flowers, green trees, his best friend Judy, and "his baby:" the new face cream he developed to help put his father's small cosmetics company on the map. Sadly he gets no help from his alcoholic, gambling-addicted father, who loses Belle in a poker game to Magnus Strong, the CEO of Beauty, Inc., the largest American cosmetics company—a man infamous for his scarred ugliness.
Belle finds himself uprooted from his home, living in a wildly crazy apartment in New York owned by Mr. Pennymaker, and completely unprepared for his mad attraction to the charismatic Strong. Feeling like a traitor, Belle fights his passion only to see more and more of the goodness and humility hidden by Strong's ugly face. But when Belle's family starts manipulating his life again, the odds turn against happiness for beautiful Belle and his beloved beast.
_____________________________________________________________________________
What People Say!
Lena Grey at Rainbow Book Reviews says — 5 Stars!
"Tara has taken a well-known Disney story and retold it with a modern twist. It's just as delightful as the animated 'Beauty and the Beast' if not more so. Magnus Strong is a magnificent Beast, ferocious outside and a heart of gold inside. Tara's Belle is definitely a departure from Disney's Belle, but just as beautiful inside and out, and a lot more 'naughty'. Belle didn't give up on Magnus no matter how difficult he became, just as Disney's Belle did with a similar outcome. The Beast was not a beast at all. Magnus, like Beast, was a tortured soul, caught in the past and doomed to stay there until someone could see his real heart. If you like fairy tales, life lessons, overcoming misconceptions, sleazy villains, good friends, and a happy ending, you may enjoy this tale. Thank you, Tara, for bringing one of my favorite animated stories to life."
______________________________________________________________________________
Buy It!
Universal Lin — books2read.com/u/mV7oL2
Dreamspinner Press — http://www.dreamspinnerpress.com/store/product_info.php?products_id=7782
Amazon — https://www.amazon.com/Beauty-Inc-Pennymaker-Tales-Book-ebook/dp/B01FX4AJ2G?ie=UTF8&keywords=Beauty%2C%20Inc.%20Tara%20Lain&qid=1463779877&ref_=sr_1_1&s=books&sr=1-1
B&N — http://www.barnesandnoble.com/w/beauty-inc-tara-lain/1123827515?ean=2940158479434
Kobo — https://store.kobobooks.com/en-us/ebook/beauty-inc
Also at iBooks
______________________________________________________________________________
Other Formats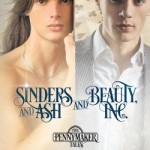 Beauty, Inc. is available in a print anthology with Sinders and Ash
At Amazon      At B&N     At Dreamspinner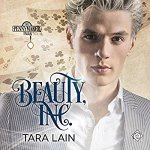 Beauty, Inc. Now Available in Audiobook at Audible and Amazon
________________________________________________________________
Excerpt!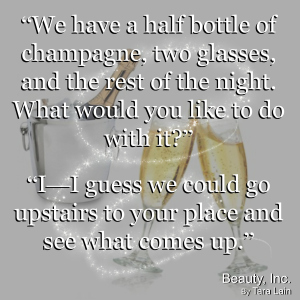 He pushed into the marble and glass room just as Belleterre came out of a stall. He seemed to be taking deep breaths, and his high cheekbones were flushed pink. He saw Magnus and the blush darkened, which was more than any gay man could stand.
Try to look natural. Magnus stepped up to the urinal and hauled it out—clearly a losing proposition, since the mere sight of the guy prompted a half-mast condition. Breathe. You've gotta pee or he'll think you've lost it. In through the nose.
Belleterre walked to the sink, pulled some paper towels from the dispenser, wet them under the water, and applied the compress to his cheeks.
Magnus managed a thin stream, shook, and zipped. He walked to the sink beside the beauty called Belle. He contained his smile since he knew it was scary. "You'd think with their prices, they could afford better air conditioning."
The guy startled, looked at Magnus with wide eyes, then burst out laughing. Clearly symphonies had less melody. "You certainly would. In fact, there's a lot about this place that could use some investment, I'd say."
"A man after my own heart." He extended his now clean hand. "I'm Magnus Strong."
The guy nodded. "Of course. I'm Robert Belleterre. I expect you know my father."
"Yes, I do. So you're Belle?"
"That's what they call me."
"A chemist."
Belle nodded.
"Honored."
"I believe you're also a chemist."
Magnus nodded. "A long time ago."
Belle's lips curved just enough to cause cardiac arrest. "Honored." He walked out the bathroom door.
Magnus leaned against the sink and took deep inhalations, then managed to get it together enough to return to his table.
Elliott stared at him anxiously. "So? Did you meet the mystery man?"
"Yes. It's Belle Belleterre, all right."
"Wow. How have they kept that under wraps all these years? Seriously, once that kid's puss hits the social sites, forget anonymity."
Magnus pushed his plate aside and leaned in. "I want every detail on their new product. I don't care who or how much you have to bribe. Just do it. Likewise on Belle Belleterre. What does he like? Hate? What drives him? Get it all for me."
Elliott nodded. "I'm on it."
Magnus stared across the restaurant, where Kleinschmidt's hand rested on the back of Belle's chair. Magnus felt his hands clench. "And I want to know what the hell he's doing with Eric." He could still feel the tingling in his hand where they'd touched, and the tingling in his cock. He sucked a breath. This is no time for stupid, hopeless infatuations. "Just find out as much as you can as soon as you can."
"Will do."
"And the game you arranged for me tomorrow night?"
"Yes. All the confirmations are in. It should be great poker and hopefully some great information as well."
"You know how I said I didn't want to include Ron Belleterre?"
"Yeah, because he drinks too much."
"I changed my mind."
Elliott smiled. "May I ask why?"
Magnus grinned back. "Because he drinks too much."
They both laughed.