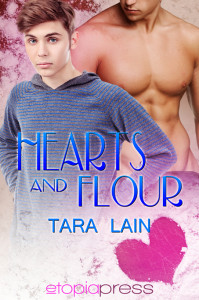 A raw food fanatic and a cupcake baker — can two hearts rise above the flour?
To Micah Truveen, raw, vegan food is his religion. So when his devoted customers start showing up with white flour cupcakes, Micah could kill. To cap off a rotten day before Valentine's Day, Micah comes home to find his boyfriend, Dharamaram, in bed with someone else. In frustration, he throws the rat out and agrees to go to his friend's orgiastic anti-Valentines party where he meets a gorgeous cross-dressing guy who gives him a night to remember.
Southerner, Quentin Darby wishes he could stop wearing women's clothes. He desperately wants to live up to the glowing opinion his grandmother holds of him, so he's never even told her he's gay. And now there's this guy who makes him wish he could just be who he is. But Micah finds out that Quentin is none other than the baker responsible for the plague of cupcakes afflicting the community! And Dharmaram adds a little blackmail to the mix. Two guys with nothing in common except love–food for thought.
_______________________________________________________________
What People Say
Fetch Me My Fainting Couch Says — 41/2 Stars Weekly Top 3
"I haven't a bad thing to say about him. His relationship with his granny was lovely and well developed and I was hoping that everything would work out perfectly for him in the end.
You might like this if you can deal with a little sugar and a lot of lust and want a book that will make you feel good at the end."
Rainbow Book Reviews —
This is a light-hearted, endearing romance, which also touches on some more serious issues as well, i.e., being gay, fear of coming out, infidelity, loyalty, cross-dressing, and most important of all, being true to yourself. I recommend this story to everyone who would like to read a good Valentine's Day story, excellently written, candid, with great humor, and seriousness all combined in a happily ever after package. Thank you, Tara, for a unique, enjoyable story.
Night Owl Reviews —
This very spicy m/m contemporary romance gives a glimpse into the life of a man who likes to dress as a woman yet has not found the courage to be open about his preferences until he finds a lover who accepts him as he is in that respect even as he has issues with other aspects of his lifestyle. Once again this author has provided enlightenment about a subject that I know nothing about even as her charismatic men struggle with acceptance and the judgement of society. I thought that the grandmother in this story was an inspiration with her poise and support and shows what family should be all about. I'm not sure I will ever get to the point of trying Micah's version of healthy foods but I am definitely in the mood for a decadent cupcake now!
Hearts and Flour is one of the 100 Bestselling Gay Romances on Amazon for 2013
__________________________________________________________
Buy It!
Also Available in Print Paperback Click HERE
________________________________________________________________
Excerpt
Micah took both his hands and led Quentin out of the living room and down the hall to the room at the end. Sigh. His bedroom.
​Like the rest of the house, the room was pretty simple, but the bed stretched across the room with clean white sheets and a lovely, deep blue and yellow comforter.
​Micah backed himself to the edge of the bed and sat, still holding Quentin's hands. "May I see your other self now?"
​His smile was so sweet, no way Quentin could refuse. Whew. He was nervous as a cat in a rocking chair store.
​He freed his hands from Micah's and slowly unbuttoned the silk blouse. When it gaped open, he pulled it off, leaving him bare to the waist except for the padded bra. He dropped the blouse on the chair beside the bed then reached back and unfastened his bra.
​When it came off, Micah's eyes widened. "Beautiful."
​Quentin grinned. "Why? There's not much to see."
​"Your chest is very masculine. Well-muscled but boyish. So pretty." Micah reached up and ran his hands over Quentin's nipples.
​"Oh my." The buds tightened in anticipation.
​Micah smiled and pulled back his hands. "What's next?"
​Quentin giggled. "You're enjoying this I think."
​"Oh my, yes, as you would say."
​"OK." Quentin reached up and slipped his thumbs under the edge of his wig.
​Micah gasped. "Wait. I thought that was your hair."
​"No. It's just a very good wig. Shall I leave it on?"
​He shook his head. "No. No, I want to see."
​Quentin glanced at him sideways. "You could be disappointed."
​"No. I want to see."
​Quentin pulled the wig off. His own hair was so light, he didn't have to cover it to wear the wig. As the wig came off, he shook his head like a dog in the water and his curls flew around his head.
Micah smiled. "I'll be damned. How could you be prettier with your own hair? But you are."
​Quentin's heart beat fast. He had never done this. He was Quentin or he was Queen. He'd never gone from one to the other with someone watching. "You say the sweetest things."