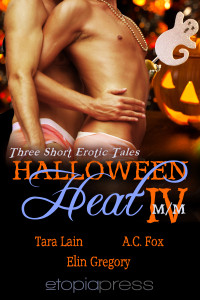 Halloween Heat IV is an anthology containing two stories one of which is Tara Lain's long short story, Trex or Treat
Josh Harris doesn't have time to be gay. A busy college professor and devoted single-dad, Josh tries to be happy with only his son for company. But then Bradley "Trex" Trexler moves in across the street with his step-brother, Bogo, and sets up his house for Halloween. Josh's son Ernie can't wait to go, so Josh dresses up like a movie cowboy and saunters over. But at the end of a long, dark hall he meets another sharpshooter — with a bead on Josh. One trip blindfolded into the dark house of horrors changes his view of the world. And the "adult" party Trex has planned in the bounce room puts an end to Josh's life-as-usual. Maybe this Halloween Josh can have Trex and treats.
________________________________________________________________
What People Say
Buffy Kennedy Reviews — 5 Stars
Trex or Treat – Nice, private Halloween party for two after the kiddies have gone to bed makes for a funny, cute, sexy, and all around awesome read. I couldn't get enough, and just wanted more. Short and sweet, and guaranteed to leave you with a smile!
________________________________________________________________
Buy It!
Trex or Treat is also part of a Print Paperback called Halloween Heat MM which contains 7 Halloween MM short stories.

________________________________________________________________
Excerpt
Once they got into the room, the door behind them closed with an ominous thud. Kids' screams came from somewhere in the back of the house. The kind of screams that meant that something awful just happened and it was great. The crystal ball flickered. "Ennnter my housssse of horrrroorrrr."
Yikes. Something horribly tickly swept the back of Josh's neck.
A curtain pulled back to reveal a long dimly lit hall. Josh nudged Ernie. "I think we're supposed to go that way."
Ernie got the big eyes again. "You wanna?"
"I think we better."
The walked past the crystal ball that was now smoky and stepped into a hall. Lights came on in front of a mirror. Josh started and Ernie gasped. They both laughed at their own reflections — a lean cowboy and a little super hero. Suddenly a small Darth Vader stepped into the hall. Ernie giggled as the little Darth walked slowly toward him. Ernie stepped out and approached Darth at an equally portentous pace.
Finally, they were nose to nose. Darth reached out and flipped up his visor. "Hey, Ernie. Come on, let me show you the cool decorations in my room."
Ernie looked back at Josh. "Can I, Dad?"
"Sure. Stay out of trouble."
The two boys ran out of the hall. Josh looked around. Where should he go now? Back outside?
A voice came from the other end of the hall. "I'm not sure there's room for two gunslingers in this town."
Josh looked up. Doc Holliday, aka, Trex, stood at the other end of the hall. Black hat, dark three-piece suit, a gun at his side, and a delicate handkerchief tinged with blood — the clue to the character since Holiday had died of TB. The western garb looked perfect on that tall athletic body. The real Holiday never looked so good. Josh wanted to drool.
Josh smiled, but Trex didn't break character. His gaze, steady and dangerous, rested on Josh's face. Okay two can play. Josh scowled like a man who gazed into the sun all day and chewed the stump of cigar in his mouth. He rested a hand on his toy six-shooter. "You want to try me?" The words were out. Crap, what did he just say?
Trex/Holiday sauntered toward him, spurs jingling. He came face to face with Josh and cracked a hint of a smile. "Show me what you got."
"Uh, oh I…"
Trex reached up and took the unlit stogy. Then he slipped a hand around Josh's neck and pressed a hot mouth over Josh's lips with a hint of warm tongue. Holy crap. Their hats bumped and Josh's fell backwards. He grabbed for it, their teeth knocked together, their noses squashed and Trex pulled back laughing. "I guess we know that cowboys didn't spontaneously seduce each other. Too much shit to get in the way."
Josh knew his eyes were wide and he was having trouble keeping his breath even. "Doing a little cowboy experimentation, are we?" He reached down and grabbed his hat from the floor and put it back on.
Trex waved a hand down Josh's body. "Hey, you come in looking that great, you gotta expect some admiration."
"Dad! Dad!" A small human missile flew into the hall. Thank God Ernie hadn't arrived a moment sooner. The boy stopped. "You gotta come see me bob for apples and shit."
"Ernie."
"Stuff."
"Okay, be right there." Ernie ran back toward who knows where.  Josh looked at Trex. "I think I've been summoned. Where are they bobbing and shit?"
Trex laughed. The low chuckle tingled in Josh's cock. The guy was too sexy. "Follow me." He put a guiding hand on Josh's shoulder which was enough distraction to make Josh stumble. The heat of Trex's lips lingered despite the awkwardness of the kiss.
Josh nodded toward Trex's costume as they walked. "What made you decide on Holiday?"
"I didn't think you'd miss my subtle clue." Trex flashed the handkerchief. "Doc may have loved Big Nosed Kate, but I've always found his devotion to Wyatt to have gone a bit beyond the call of duty. And you decided the Man with No Name was gay?"
"Maybe he had so little to say to all those outlaws because he really wanted to discuss china patterns."
function woopraReady(tracker){ tracker.setDomain('taralain.com'); tracker.setIdleTimeout(300000); tracker.track();
return false; // when we return false, the Woopra script will not call the track() function again. }
(function(){ var wsc=document.createElement('script'); wsc.type='text/javascript'; wsc.src=document.location.protocol+'//static.woopra.com/js/woopra.js'; wsc.async=true; var ssc = document.getElementsByTagName('script')[0]; ssc.parentNode.insertBefore(wsc, ssc); })();