Woohooo KNAVE OF BROKEN HEARTS is on SALE for only 99 Cents!! This is the second book in the Love In Laguna Series, but completely standalone.
The sale is only for a limited time so grab your copy now!!
Kindle | Dreamspinner Press | Nook | Kobo | Amazon UK 
If you haven't read KNAVE OF BROKEN HEARTS, below is the blurb and a nibble for you!
Blurb:
Jim Carney has a full time job—running from himself. Since he walked out on his wealthy family at sixteen because he'd wrecked his best friend's life over some yaoi graphic novels, Jim has lived a macho, blue-collar existence of too much booze and too little responsibility. Then Billy Ballew, the man Jim most admires, gives Jim a chance to come through as his construction supervisor. For once, Jim is determined to make someone proud. Then Jim goes in for a physical for his new job and his yaoi dream comes to life in the form of cardiologist Ken Tanaka. Jim discovers he has two heart problems—a wonky mitral valve and a serious attraction to his doctor. But Ken is a major player, and Jim might be just a notch on the doc's stethoscope. To Ken, Jim is unforgettable—but the living embodiment of his traditional family's worst nightmares. 
How come the minute Jim decides to be responsible, he finds himself taking care of his kid brother, getting a proposal from a wealthy woman, making a deal with the devil, and winding up in the hospital—when all he really wants is the Knave of Broken Hearts?
EXCERPT: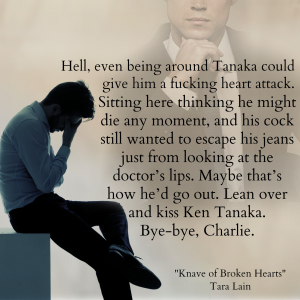 The door opened and Anderson came first, hopping straight onto the bed and settling on Jim's pillow before Ian even made it fully inside. He smiled. "Hey, Jim, how was the date?"
That might have seemed like an easy, polite question, but it was a total minefield. "Fine. I gather you and Rico have struck up a friendship."
His cheeks turned pink. "Yeah. He's a great guy and has been all the places I want to go—like architecture school."
That felt like a blow to the head. Jim stared at his feet. "Doesn't that make him too old for you?"
"Thanks there, Mom." He laughed.
Dammit, Ian needed more of a mom than the one he'd had. "Sorry."
"Actually he's only four years older. He's this prodigy who started college at sixteen and finished architecture school in five years."
"Talented guy."
"I think so too." Sappy smile redux.
Jim crossed his legs and gave his brother's hair a swipe. "Not as talented as you."
"He agrees with you." Ian's giggle reminded Jim of the guys outside the bathroom stall, and his cock gave a little jerk. Ian flopped on his back on the end of the bed, not distressing Anderson at all. "So tell me more about your date."
"I'm gay."
Ian sat straight up like a zombie. "What the fuck? You told me you weren't."
Jim caught his breath and tried to get his brain to catch up with his mouth. "I know. And maybe I'm not, but—shit, I don't know." That moment in the bathroom stall when he'd come into Ken's hot, endless throat— "I just don't like sex with women as much as I like sex with men." How was that for the understatement of the century?
"Hang on. You've had sex with men?" Ian mirrored Jim's position and stared at him like the head of the Inquisition.
"Uh, yeah. Sort of. No, I mean, once, and some other—sort of."
"I think we better talk about this."
"Now who's being the mother?"
Stern gaze. "You need guidance when it comes to this. Talk."
"I had sex with Ken Tanaka."
"Sex sex?"
"Yeah and a couple of blow jobs." Jesus, that did not begin to do justice to the situation.
"When he was here?"
"Uh, not exactly. Since then."
"That may not make you gay."
"What?"
Ian cocked a half smile. "That guy's so gorgeous, he could seduce Pastor Rick."
"I know, and I kind of agree with you. I don't generally get hard-ons for guys, except for Ken."
"It's a 'gay for you' situation, then."
"What's that mean?"
"A straight man who falls for one guy and never gets tempted by any others. Some people believe in it. Mostly in romance novels." He smiled.
Jim stared at the faded bedspread. "Except I can't get it up for women anymore."
"Anymore?"
"I was never Don Juan, okay? But I've had some orgasms with females. Just not lately."
"What about when you were in puberty? I was little, but I remember you hanging out with girls and shit."
Jim sighed. "Yeah."
"Were you attracted to them? I mean, were you trying to get to first base and all that boy/girl drama?"
"No."
"Bad sign. For your future heterosexuality, I mean."