Hi —
My Blog Tour for Cowboys Don't Ride Unicorns is almost over, so if you'd like to enter, click HERE! Scroll down for the Rafflecopter and enter to win a $15 Amazon GC. Cowboys Don't Ride Unicorns is a big success with readers. Thank you all so much! It's been hanging out on the Top 100 Gay Romances on Amazon since it came out and has been in the Top 5 at Dreamspinner Press for days and days.Here's a nibble —
Cowboy Danny Boone—a name he made up one drunken night and has regretted ever since—harbors a big past and yearns for a small future. A short, bright career as a champion bull rider almost ended in his death when his homophobic father discovered Danny was gay. Now Danny longs for a plot of land he can build a ranch house on and enough money to make up for some of the education he missed. 
Danny also hides a preference for beautiful femmes who like to top—a combo rarer than a unicorn. Then onto the guest ranch where Danny works drives San Francisco decorator Laurie Belmont, a young man so gorgeous he makes horses gasp, and so ballsy he almost kills Danny's attacker. 
Laurie's trying to find his way out from under the thumb of a domineering mother, helpless father, and rich, privileged boyfriend. 
But no matter the attraction, their lives are worlds apart, and cowboys don't ride unicorns.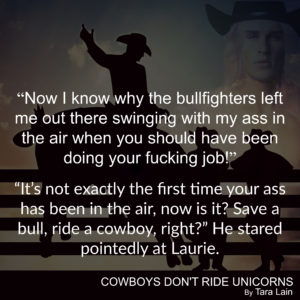 eBook: https://www.dreamspinnerpress.com/books/cowboys-dont-ride-unicorns-by-tara-lain-8301-b
Paperback: https://www.dreamspinnerpress.com/books/cowboys-dont-ride-unicorns-by-tara-lain-8302-b
Amazon — https://www.amazon.com/Cowboys-Dont-Ride-Unicorns-Tara-ebook/dp/B06XBW1C5C/
B&N– http://www.barnesandnoble.com/w/cowboys-dont-ride-unicorns-tara-lain/1125859242?ean=2940157502751
Kobo — https://www.kobo.com/us/en/ebook/cowboys-don-t-ride-unicorns
iBooks — https://geo.itunes.apple.com/us/book/cowboys-dont-ride-unicorns/id1205603432?mt=11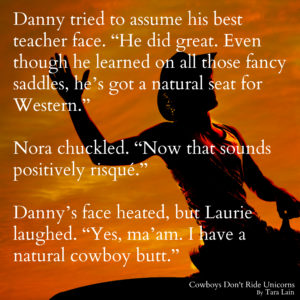 Laurie had thought they'd get here, he'd hold his breath for eight seconds while Danny risked his life, and they'd go home. No such luck. The competition included two rounds. One in the morning and one in the afternoon—the "short go," Danny told them. Of course, Danny might not make it that far. Shit, I might not make it either.
The smell of horses, cows, and sweat filled his head like smoke. He'd imagined all that testosterone crowded into one place would be an aphrodisiac, but the arena had an odd feeling. Uncomfortable. Embarrassing to admit, but Laurie'd taken pains to look butch today—as butch as he could—so as not to make Danny uncomfortable, but apparently butch Laurie didn't measure up in this rarified alpha-male universe. Cowboys walked by and eyed him, some looking shocked and others mean. Only a few appeared admiring or even neutral. Laurie shivered. Hell, he lived in San Francisco and decorated people's houses. His personal style got him extra points in his world, but not here, baby. Pay attention. That's how different you and Danny are.
Danny was saying, "Okay, I've got to go back and get ready for my first ride."
Andy smiled, awestruck. "Did you already choose your bull?"
"No, I don't get to choose. I'm just an also-ran here, so my bulls are picked randomly."
"Do you know who you got?" Andy looked worried.
"His name's Humdinger. I saw him. I think he lives up to it."
Another rider walked by and gave Laurie a surprised look. Better than some. Laurie said, "Hey, Danny, where's your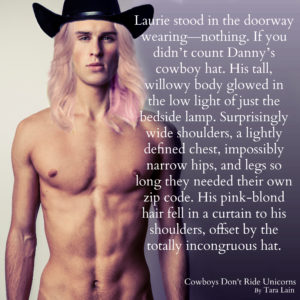 helmet? A lot of the riders have them."
"I don't use one. I need my hat for balance."
Laurie felt his mouth fall open. "Isn't that dangerous?"
Danny lowered his head and gazed at Laurie under the hat brim, which he reached up and pulled. "Hell, I gotta give that beast a fighting chance." With a grin, he sauntered off toward the rider's entrance to the arena.
Rand snorted, Aliki clapped, and Laurie just stared, mesmerized by the flexing muscles in that gold-medal ass.
_______________________
Thank you for stopping by!  : )