Hi — I'm delighted to say that people seem to be loving Cowboys Don't Ride Unicorns!  If you haven't entered on the Rafflecopter for a $15 Amazon GC, do it now HERE. I thought you might like a nibble from the book, so here goes —
Cowboys Don't Ride Unicorns by Tara Lain
Cowboy Danny Boone—a name he made up one drunken night and has regretted ever since—harbors a big past and yearns for a small future. A short, bright career as a champion bull rider almost ended in his death when his homophobic father discovered Danny was gay. Now Danny longs for a plot of land he can build a ranch house on and enough money to make up for some of the education he missed.
Danny also hides a preference for beautiful femmes who like to top—a combo rarer than a unicorn. Then onto the guest ranch where Danny works drives San Francisco decorator Laurie Belmont, a young man so gorgeous he makes horses gasp, and so ballsy he almost kills Danny's attacker.
Laurie's trying to find his way out from under the thumb of a domineering mother, helpless father, and rich, privileged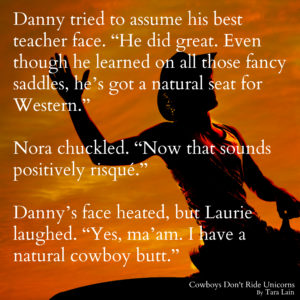 boyfriend.
But no matter the attraction, their lives are worlds apart, and cowboys don't ride unicorns.
eBook: https://www.dreamspinnerpress.com/books/cowboys-dont-ride-unicorns-by-tara-lain-8301-b
Paperback: https://www.dreamspinnerpress.com/books/cowboys-dont-ride-unicorns-by-tara-lain-8302-b
Amazon — https://www.amazon.com/Cowboys-Dont-Ride-Unicorns-Tara-ebook/dp/B06XBW1C5C/
B&N– http://www.barnesandnoble.com/w/cowboys-dont-ride-unicorns-tara-lain/1125859242?ean=2940157502751
Kobo — https://www.kobo.com/us/en/ebook/cowboys-don-t-ride-unicorns
iBooks  — https://geo.itunes.apple.com/us/book/cowboys-dont-ride-unicorns/id1205603432?mt=11
_____________________________________
They all shot the breeze for a few minutes. Weirdly, the banter with a bunch of bull riders should have relaxed him, but he kept getting antsier. When two of the men started arm wrestling, Maury leaned over. "You feelin' okay to ride, Danny?"
"Yeah. Doc gave me a clean bill."
"You sure? Maybe another week off would be good."
Danny mustered a grin. "Getting' rid of the competition?"
"No." He snorted. "Well, yeah, but I don't think you should ride when you're hurt."
"I'm okay. Really." He stared at his hands.
Lots of noise coming from the arena now, cheering and yelling. Maury nodded. "You'll be up soon."
Lorenzo asked, "What bull did you draw, Danny?"
Danny released a slow exhale. "Scorpion."
"No way. Who has bad enough luck to draw Scorpion twice in a month?"
"That would be me."
Maury mumbled, "Shit."
Danny nodded. "Yeah. Bull—shit."
Okay, here goes. He stood and grabbed his gear.
Maury gripped his arm. "I really think you oughta reconsider—"
Danny heard an intake of breath from Lorenzo, who sat on Maury's right. Danny glanced at the man's face. He stared past Danny looking like he'd seen—what? In fact, all the guys were staring
Danny followed their line of sight. Holy shit.
There stood Laurie between Danny and the bull chutes. Black shiny boots, skin-tight black jeans tucked in, a black turtleneck jersey, and the pink mane hanging on his shoulders. Shining in the middle of his chest was the unicorn charm. Half angel, half dominatrix.
Danny glanced at the men around the table, who'd all turned to stone. Clearly no man in the arena had ever seen anything quite like Laurie. Hell, who had?
"Uh, hi, Laurie. For a guy who hates rodeos, you sure show up at a lot of them. How'd you get here?"
"Drove."
"No, I mean why'd you come here?"
"You wouldn't return my fucking calls."
"I didn't think there was anything to say." He flicked his eyes toward the cowboys who all stared like this was their own soap opera.
Laurie held out a slip of paper. Danny stepped forward and took it. A cashier's check for eighteen thousand dollars.
"Your dad sold the business?"
"It's in progress."
A young cowboy rushed up. "Danny. You need to get in the chute."
Laurie said, "No!"
The guy looked at him like he was crazy. "Come on, Danny."
Laurie put his hands on his hips. "Danny Boone, you're not getting on that fucking bull. You're not healed. It's too dangerous. You don't need the money anymore."
Somebody said, "Who the hell is this guy?"
A voice whispered, "Looks like a fag to me."
Maury's voice came from behind him. "Shut the fuck up if you want to keep on living!" Then he said, "Listen to him, Danny. You need to pay attention to the people who care about you."
Laurie glanced at Maury and nodded, then looked back at Danny.
Danny just swallowed. Cared about him? Maybe. But it didn't change shit. He cleared his throat. "Why didn't you just mail the money?"
"Because I called the ranch and heard about this fucking suicide mission, and I wasn't going to let you do it without a fight.
The young cowboy pulled on Danny's arm. "Come on."
Laurie stared, narrow-eyed.
Danny yanked his arm back. "So you drove here just to stop me?"
"Yes. And to give you the money so you'd know you don't have to be crazy."
He gritted his teeth. "I don't want Grove's fucking money."
Laurie scowled. "How do you figure this is his money?"
"Community property." He spit the words out.
The crease between Laurie's brows deepened. "I'm not marrying Grove."
"Since when?"
"Since ever. If you hadn't run off like an adolescent martyr, you'd have heard me turn him down."
"Danny! You gotta come now." The kid looked frantically over his shoulder.
Danny stared at that beautiful face. The L word. L—for Laurie.
___________________________________________________
This book took a ton of research and was a lot of fun to write. Hope you enjoy it!