Hi everyone —
Please welcome my friend, Jan Irving, to the blog. Jan has two wonderful new books to tell you about! Here's Jan —
Heal your woundedness.
It was a line that struck me from The Heart of Creativity by watercolor artist Jeanne Carbonetti. She was talking about what was a necessary step to fully expressing yourself in life, whether as an artist or as a human being.
Most of my stories have been about healing wounds. That's no accident given my own background. But the flip side of wounds is that if you seek out healing you can enter new worlds, whether it's in the fiction you write to express things you've left unsaid inside yourself or in taking up something like yoga.
I used to think I could write and lose myself in stories, let my characters find healing. What did it matter as long as I was productive? But I wasn't happy and nothing could really make me feel at peace. Not success when it happened, not words of praise.
But I think a time comes when we take charge of being happy in our lives. Find out what we need to do, what places we have to revisit. As a writer, I am not always as brave as my characters or as decisive. But that's one of the biggest roles of fiction, of myth making. Stories inspire us on how to live. Heroes show us the way.
I have two books out that I wrote back to back that are deeply about healing. I didn't plan for them to go that way, but they did and they took me along for the ride.
The first is Lonely Cowboy. I enjoyed writing about Tate, a quilt artist who won't give up on being happy. He's had his heart broken more than once but he's sure there is someone special out there just for him.
He's rewarded by finding a very unusual and dangerous man–a man who isn't eating or sleeping or really living until he finds himself in Tate's orbit. Simon thinks he'll protect Tate when he's threatened because Simon is afraid of cracking his heart open again. But of course, he can't resist Tate for long.
Tate… I fell in love with a man I didn't understand. You know how that is? Simon Morrison has long silver blond hair in a ragged pony tail, and blue eyes more alive than I've ever seen, like he's walked with death so everything else has burned away. He's a warrior who came back broken, who hides in the shadows. And there's something dangerous about him, but I didn't understand until the night I ran after him and they were waiting, the other wolves. They tore into me and I died. My name is Tate Stevens and I died but something kept me here. I couldn't leave my warrior behind no matter how much it hurt, how confused I am to be whatever it is I am Becoming.
Simon… I came back from Afghanistan with one goal, to find a place to die. But slowly, watching Tate working on his art quilts, it didn't hurt so much. I felt the colors coming back. He is my light. He is my heart. They tried to take him away from me while I screamed his name. And now he thinks he's a monster. I have to find a way to bring him back to his light.
Find Lonely Cowboy here.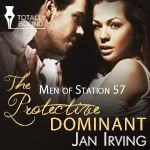 The second story about healing was one I was really excited to write. When I first started my mini series about hot fireman with a taste for dominance in the Men of Station 57 series one Dom stood out—the ruthless, cutting Taz. He was not exactly nice in the first two books but he has a weakness for his innocent neighbor, Jenny Ann, and after she's attacked and afraid to leave her home Taz uses his gift for dominance in a whole new way—to heal the woman he loves.
Excerpt from The Protective Dominant:
Jenny Ann Green was digging in her garden again.
Taz watched her from the open door of his kitchen, rubbing his bloodshot eyes.
Dirt shot like it was geysered out of the ground, hitting her face, hitting the ratty-looking things in her gardening basket. She dropped her trowel and began tunnelling into the earth with her bare hands, more dirt whipping out, shooting onto the neatly kept grass.
"Fuck this," Taz growled.
He reached her in seconds. Stood there, trembling. Closed his eyes. Don't touch her, asshole. You can't touch her.
But it was hard, so freaking hard not to yank her off the ground and into his arms.
"Jenny?" His voice was rough. He cleared his throat, balling his fists. Don't scare her.
She kept on digging. She probably hadn't heard him.
"Jenny, look at me, sweetheart." A memory of a female voice mocking him for using the word 'sweetheart' came to him. Dharma, his friend Fred's smoking new girlfriend. Yeah, she'd pointed out that using that word hadn't suited him at all since he was such a bastard with women.
She'd been right.
He was.
He didn't like women. He didn't trust them.
They had their use and he kept what he wanted from them tightly compartmentalised.
With his head thrown back, he dragged in deep breaths, trying to centre himself. As an experienced dominant, he knew the first rule was to master yourself before you tried it with anyone else.
But it was so hard because Jenny got past all that. She was the crack in his armour that kept getting wider and wider, and it scared him because what the fuck would spill out if he kept letting her in? Nothing good. Absolutely nothing good, he knew.
When he had control, he knelt beside her, ignoring the dirt that she shovelled in his direction. Hell, the girl couldn't even see him out of those spacey eyes so the dirt coming towards him was nothing personal.
Jenny was too polite, too sweet to ever throw dirt his way, much as he deserved it for the way he'd treated her.
He remembered the evening he'd come home and found that she'd planted flowers along his drive. "If I want fuckin' flowers, I'll plant them myself. Now get your ass off my property."
Yeah, he'd been a real prince.
"Jenny Ann." His voice was calm. "Jenny, wake up, sweetheart."
No response. She was putting the weedy-looking things into the hole she'd dug. Damn, it was as deep as one Bo, his friend Mike's golden retriever, routinely dug in Mike's backyard.
"What are you doing?"
"I'm…" She frowned and looked down at the bulb in her fist. "Saffron bulbs. Come up in the fall," she said in her honeyed Southern lady drawl.
"That's good, Jenny," Taz said. "But do you have to do this now?"
"Now…" She blinked. He could see her mind slowly coming back online. Suddenly she shuddered violently, looking around her.
It was killing him. He had to put his arms around her. "Jenny."
She was ice cold. Ice cold. Shivering in her little threadbare nightie. No slinky red gown and red shoes for Jenny Ann. No, she went to bed alone in soft cotton, worn from too many washings.
He tried not to look at her nipples through the gown. She had larger breasts than he'd thought. She had a way of hunching her back or wearing too-large clothing so he hadn't been able to see them clearly. He wanted to take them in his hands. Bastard, to be thinking that now.
Blurb:
Night after night, wounded innocent Jenny Ann Green sleepwalks, reliving a nightmare. Her nearest neighbour, firefighter Taz–short for Tasmanian Devil–is a legendary sexy bastard of a dominant but he's breaking his heart over this girl. He needs to find a way to heal her. Her silent pain awakens his own past.
Soon Taz forces Jenny to leave the safety of her house. Taking her shoe shopping at the mall–even though he hates women's shoes–to a barn raising for the local coffee house and to the SPCA to adopt a forlorn golden retriever. It's not the way he ever thought he'd ever use his natural gift for dominance, protective and gentle, but the fear in Jenny's eyes is melting. Now she needs him to do more than watch over her, but to touch her. But small town girls like Jenny always fall for bad boys like Taz…
Find The Protective Dominant here
Jan Irving has been writing happily since she began sharing sexy stories with friends via email. Since then she's expanded to include people she doesn't know, sharing all the different worlds and people who inhabit her writing life.
Website: http://janirvingwrites.com/