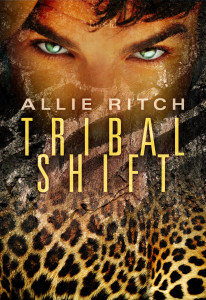 Hi everyone–
Please welcome my friend, the fantastic Allie Ritch. Allie has a great new shifter book that sounds both steamy and fun. And i do love me some felines! PLUS, she has a COPY for Someone who COMMENTS on the Blog! Here's Allie –
Tara, it's always a pleasure to be here. I'm thrilled to announce the release of my new shifter/sci-fi romance novel, Tribal Shift, from Loose Id, and I think you'll especially like this one. I know you appreciate a sexy feline in man form (Let's hear it for Aloysius!), and Rasik, the hero of Tribal Shift, just happens to be a scorching hot caracal shifter who knows how to get what he wants.
What he wants is the heroine, Kalya, a very rare and secretive shifter from another tribe. The only problem is that he's supposed to mate with another caracal shifter, while family duty dictates that she choose a mate from among her own kind. Can romance win out over familial love? Can shifters from two different tribes be together?
I love writing about shifters because the emotions involved are so raw: lust, love, protectiveness… There's also something seductive about the idea that someone can morph into a sleeker, more powerful body and break free from the constraints of civilization. And of course shifters have the fun of wild, hot sex. They give new meaning to, "He's an animal."
The story of Tribal Shift is a journey for Kalya and Rasik, both physically and emotionally. Though they were childhood friends, they have a tough time negotiating their relationship once adult passion enters the picture. There are family and trust issues in the way, not to mention leopard shifters who want to conquer their territories and tear them apart.
But the lust that flares between them certainly draws them together! I'd like to share one of the hotter scenes from Tribal Shift—a forbidden moment between two shifters who aren't supposed to be mates. I hope you enjoy the tease and give Tribal Shift a try.
And if you'd like to try your luck, be sure to include your e-mail address in the body of your comment for a chance to win an e-book copy of Tribal Shift.

Blurb: Kalya has loved Rasik since they were children, and that love has followed them into adulthood. The only problem is he's a caracal shifter, while she's an omnimorph—a shifter capable of morphing into any animal on the planet of A'ata. Coveted and resented for centuries, her people stick to themselves and keep their abilities a secret. But when Kalya's young cousin and Rasik's brother run away together, she and Rasik are thrown together as they chase after them. Across the wilds of A'ata, they confront hostile shifters, perilous terrain, and a passion that could reveal all their secrets. Can shifters from two different tribes become mates? Or will nature and their families keep them apart?
Excerpt:
"Rasik!" She threaded her fingers through his hair and threw her head back when he pinched her nipple and suckled her clit.
She was so close to coming she was nearly blind with desire, and her thighs shook with anticipation. When he removed his fingers and dipped his mouth lower, she rewarded him with a hard gush of moisture and drizzled her intimate honey on his tongue. She released a breathless cry as her climax broke.
He racked her body with bliss all the way from the nipple he still plucked to the sex he laved. Contractions more powerful than anything Kalya had ever felt stampeded through her sheath. The only shortcoming to the sensation was the emptiness she felt inside. She wished he'd kept his fingers there or had given her pussy something more substantial to hold on to.
When she lowered her gaze, she discovered Rasik watching her with an expression of pride and devotion. He withdrew his mouth and petted her curls until the final twitch subsided in her channel and clit. His pupils were huge, making his eyes look darker than she'd ever seen them, and he kept his gaze fixed on her as he got to his feet.
"You're beautiful." His voice was guttural. "You will be mine."
Not wanting to spoil the moment, she kept her arguments to herself. Instead, she clasped the prominent bulge straining his breeches.
"What about you?" She stroked his stiff cock through the fabric, shocked by how large and fat it was. "I didn't know you could put your mouth on me like that, but I saw something similar once between pure humans. A farmer's mate was tending to him while he took a break to drink some water."
Rasik's face hardened with need. "How did she tend to him?"
Kalya showed him. Still nude, she lowered herself to her knees. She was reminded of her injury when she tried to loosen his pants, but with his help she dropped them to his ankles. His cock sprang out aggressively, poking beneath the hem of his tunic like a tortoise sticking its head out of its shell.
As a shifter, Kalya had seen nude males more times than she could count. She'd occasionally caught glimpses of them aroused. Never had she seen one in this state because of her.
"It's like milking a teat," she explained. She wrapped her fingers around his cock and marveled at its hard core and soft skin. "You pump it until the fluid comes out."
Dropping her mouth to cover him, she began to demonstrate. It was a lot harder than it looked, she thought. Then she almost giggled at the pun. Common sense told her to keep her teeth out of the way, and it took her a while to find her rhythm. She used her hand to make up for what her mouth couldn't reach and worked him with firm pulls.
If she'd had any doubts she was doing it right, they were dispelled when he moaned her name. Rasik sounded desperate but not in pain. He couldn't seem to help the thrust of his hips, so she used the extra motion to her advantage. His tongue had felt amazing on her sex. She now licked and sucked him the same way to see if he liked it too.
He moaned long and loud, and the next stroke of her hand caused his shaft to swell inside her mouth. Then his cock spurted like a spitting cobra as he tightened his buttocks and came in heavy pulses.
If his seed had been milk, she would have said it had gone rancid. Kalya waited until he was done and discreetly spit on the ground beside her. The rapture on Rasik's face when he'd come was well worth the bitter taste, and she was pleased by how mellow and content he looked once his muscles unclenched.
He did up his pants and helped her to her feet. While she'd been touching him, she hadn't noticed her fatigue, but a small wave of dizziness crashed over her when she got up.
Rasik put his arms around her to keep her from swaying. "I'm sorry. You're still healing. I should not have allowed you to do that."
Kalya scoffed, though she was glad he helped her put her dress back on. "You don't allow me to do anything. I did it because I wanted to." Conceited male.
Buy Link: http://www.loose-id.com/authors/a-f/allie-ritch.html
Website/Blog: http://allieritch.wordpress.com
*********************************
Thank you so much for coming by. Remember to leave a comment to win a copy of Tribal Shift (Hmmm. Can i enter? LOL) Remember, if you're not yet the owner of a copy of F.A.S.T. Balls, you can get it everywhere including Amazon!.

And be sure to enter to WIN in the F.A.S.T. Balls Blog Tour. See the home page for the Rafflecopter!. : )