Hi —
I usually change my blogs every day or two — BUT, since there are THREE, count them 3, Hops going on right now, i think i'm leaving this post up another day. I want to give you a preview, however. Thursday, Selena Illyria will be here with her new release!  On Saturday and Sunday, Lynn Lorenz joins me for Big Backlist Weekend! These are great events! Plan to be here for both! Also, my new book, F.A.S.T. Balls is tearing up the charts on Amazon and ARe! Be sure to enter on my Rafflecopter in the middle of this post to enter to get some fun books and swag.
Welcome to the Stud-a-Thon, baby! Hot books, hot photos and hot prizes. Before i dig into my studalicious offering, remember we are in the middle of a Hop Marathon! There are three Hops going on simultaneously. In addition to this Hop, there's the Great Equinox New Release Hop where you can WIN a Kindle Fire and a $100 GC plus book, books, books. Click HERE! For the Sunset on Summer Fun Hop where you can WIN a Kindle Fire or a Nook HD, Click HERE.
On with the Stud-a-thon! Here's a picture of your Grand Prize! You can enter for this prize on the Rafflecopter at the bottom of the post.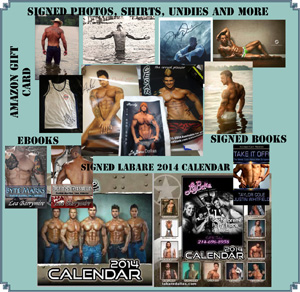 Here on my blog, you can win:
Your choice of a Beautiful Boy of Romance — aka pick your favorite Tara Lain cover and win that ebook (except F.A.S.T. Balls. You have to win that in my Blog Tour)
To win my prize, please do the following:
Leave a comment naming your favorite cover from my books. You can see them all on this site or lined up on my Amazon Page HERE
Like my Facebook Page HERE if you want to
Join my wildly cool (well kind of) newsletter (if you want to) Sign up above on the right.
The other thing to do while you're here is sign up on my Rafflecopter as part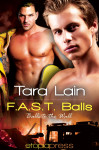 of my F.A.S.T. Balls Blog Tour! This is my new release and there are fun things to win! Remember, this Rafflecopter is for MY BLOG Tour. The one for this Hop is at the bottom of the post. : )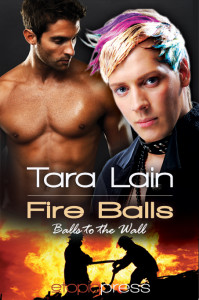 Now let's talk studs — Tara style. You may know that i write the Beautiful Boys of Romance. These are charismatic, unique, even quirky, often sensitive heroes who only occasionally fit the definition Alpha Male. Yes, i created Hunter Fallon, the handsome, hunky firefighter of Fire Balls, BUT Hunter longs to be a teacher of literature and sit in the sun reading poetry. His lover is RodneyMansfield who's a black belt in karate and a powerful, fearless fighter. He also happens to be 5'6″ tall, has pink hair, and wears six earrings. In Sinders and Ash, Ashton Armitage is rich, gorgeous, and powerful, but he's surrendered control of his life to others. He has to be taught to be true to himself by a boy so pretty that he can model the women's clothes he designs. In my new book that released on September 20th, F.A.S.T. Balls, both men are what the world calls heroes — firefighters! But one is a raging homophobe and the other thinks of himself as dumb. Still, they both have great abs. Just proving that alpha males can be complicated. LOL.
Here's a nibble from F.A.S.T. Balls showing the softer side of my alphas.Below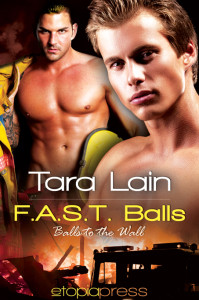 that is your Rafflecopter and Linky List. Remember to enter to win here then Hop on to see the other authors in the Hop.  Excerpt: F.A.S.T. Balls by Tara Lain; The Gay Fireman and the Homophobe Available at AMAZON  ARe Firefighter and surfing champion, Jerry Wallender, looks like a hero to the world, but he can't see it. He keeps falling for these intellectual guys who end up making him feel dumb and unneeded.  On top of that, Mick Cassidy, super-gorgeous firefighter and total homophobe, makes Jerry's life miserable with his slurs. Then one day Mick's nice to Jerry and, at the Firefighter's Ball, Jerry offers a helping hand and ends up with a hand-job. What the hell is going on?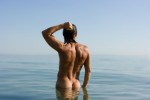 Mick Cassidy is great with fighting fires and solving math problems but rotten with people. Raised by a gay-hating preacher, Mick's carefully constructed world of gay bashing starts to crumble when he meets Jerry, the nicest, kindest man he's ever known.  Mick's never wanted a woman and can't stop thinking about sex with Jerry. In fact, he can't stop doing it. Does that make him gay? And if he's gay, what happens to his whole life? A hook-up between sweet Jerry and mean Mick might be total disaster — or the smartest idea Jerry ever had.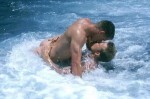 "My mom says fire is really scary. I had bad dreams."
Jerry smiled and leaned forward on the folding chair toward the kids sitting on the big rug in front of him. Mick sat beside him on another chair looking like someone had thrown him into a swamp full of alligators. He'd said something about kids making him nervous on the drive over, and he hadn't been kidding. Jerry nodded. "Your mom is right. Fire can be real scary. But remember, it's good too. How else would you get hot dogs and s'mores?"
All the kids laughed and echoed him. "Yeah, s'mores."
"Now you guys did really good yesterday when you exited your building." "What's exited?"
Jerry smiled at the little girl with cocoa skin. "It means when you marched out the door just like in your fire drill."
"Ohhh." "And because of that, Firefighter Cassidy and I have been authorized, uh, I mean we've been told, we can give each one of you an Honorary Firefighters Badge."
"Yayyy." "Wow!" "Can I have two?"
Jerry laughed. "But first, tell me all the stuff you know about how to handle fire." The kids stared at him.
For the first time, Mick moved. He leaned forward and said real soft, "Matches."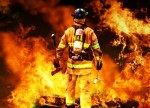 One little boy nodded authoritatively.
"Ohhh, yeah. Never play with matches."
"Don't touch matches." Jerry looked at Mick and gave him a wink. The guy looked down at his hands. Jeez, he was weird. He looked back at the kids. "And what else can you tell me about fire?"
The children all looked right at Mick. His ears turned pink, but he got into the game. "Fireworks," he whispered.
One little black-haired boy rolled back on the carpet. "Fireworks are great!"
Jerry laughed. "Right, but where do they belong?"
Once again, all eyes turned to Mick. He held up his hand beside his mouth. "In the city fireworks display."
One red-headed boy threw his hand in the air. "Ciddy fiahrwooks!"
Jerry nodded. "Right! Never, ever pick up fireworks or buy them at the store. They can hurt you and they're not allowed in Laguna Beach. You know where that is, right?"
Heads nodded.
"Okay, good. Now Firefighter Cassidy and I will hand out your badges. Remember, fire is good most of the time. But you have to use it right. Never play with it. And do your fire drills regularly. Ready for your badges?
"Yes!" "Yayyyyy!"
He took the plastic badges from a box and handed some to Mick. As the kids flocked around him, the big guy smiled and looked kind of happy. A little Hispanic girl grabbed Jerry around the legs.
"Thank you, Fireman."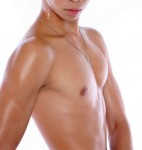 He knelt down. "Thank you. What's your name?" "Antonia." "You enjoy your new badge, okay. Show it to your mommy and daddy."
"I only have a daddy." Jerry's breath caught. "Well, I'll bet you love him very much."
She nodded. "Yes. He makes me sandwiches and we're in it together."
Jeez, should he laugh or cry? "Do you have a little girl, Fireman?" He smoothed her inky hair. "No, but I wouldn't mind having a little girl just like you someday."
"I hope you find her."
Heat pressed behind his eyes. "Oh, I hope so too." No crying, man. He hugged the tiny frame. "Thank you for letting us come to your class today."
Big wide eyes. She nodded. "Thank you for coming." He smiled. When he looked up, Mick was staring at him.