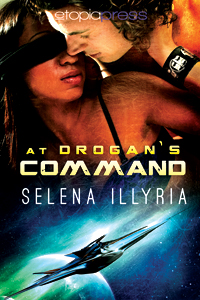 Hi everyone–
If you're here for the Stud-a-Thon Hop with it's basket of goodies, Click HERE. In addition to this Hop, there's the Great Equinox New Release Hop where you can WIN a Kindle Fire and a $100 GC plus book, books, books. Click HERE! For the Sunset on Summer Fun Hop where you can WIN a Kindle Fire or a Nook HD, Click HERE.
I'll bet you already know my guest today, the popular and fabulous, Selena Illyria, author of delicious fantasy, paranormal, and scifi (she writes some toe  curling elves too!) Se has been a mentor and guide to me in my career and i am proud to call her friend! Se's new book, At Drogan's Command, is a bestseller and she is offering you a wonderful prize today if you leave a comment. Read the rules at the bottom of the post! Here's Selena:
A Book of Firsts
At Drogan's Command has  special place in my heart. This book is the first time I delved into the Sci-Fi/Futuristic genre and the BDSM genre. I had initially intended for Drogan to be a one off book but it decided to let me know that there were more characters that needed their stories told. I had always admired Sci-Fi/Futurist and BDSM but had never really thought about doing anything in either genre until the plot bunny for this story started to evolve. This story was supposed to be less than 20k but it grew out of a request from the story's original editor. When I received my rights back for this story my editor had some requests of his own and ideas on how to improve the flow of the story and increase the tension between the characters. This new outlook gave me not only a new appreciation for this first story in the series but it also re-ignited my desire to write more in this world, even do a spin off or two. I'm really excited to be able to bring this story to you once again. I hope you enjoy. It will always hold a special place in my heart and be a milestone in my career.
Excerpt Rating (PG-13),
Out Now!
Series: Hades Helmet Crew
Genre: Sci-Fi/Futuristic, Paranormal, Interracial, BDSM
Blurb:
He commands her body…but can he win her heart?
Who knew one little disc could cause so much trouble? Certainly not Rena, until the disc in question—the one in which she lives out every sexual fantasy she's ever had, including a few inspired by her crush, Captain Drogan Carter—falls into the wrong hands. Drogan's.
Rena is desperate to get it back—she can't let him know all her darkest, dirtiest secrets…
When Drogan finds the disc and watches the very private contents, his first feeling is guilt. But that guilt soon turns to a raw, sexual need to have the wanton, carefree Rena in his bed. He knows she'll never come to him willingly, but once he gets her, he'll have plenty of time to win her over, and to prove to her that reality can be so much better than fantasy. But first he needs a plan, a way to get her right where he wants her: at his command.
Author Note: This is a re-release. The book has been streamlined and tweaked for a better storyline.
Buy Links:
B&N
Excerpt:
Captain Drogan Carter groaned inwardly. He tried not to stare at the firm backside of his assistant as she bent over to retrieve a paper. He clenched his teeth and tried to focus on what his second in command was saying, but out of the corner of his eye he watched Rena straighten up and place the paper back on the pile in her arms. She brushed a stray dark-brown tendril of hair out of her face and punched her access code into the security panel.
"So, the mission would be a good idea. We get to recharge our solar panels, fuel up, and buy supplies all at the same time. What do you think? Should we stop at Green-23t?"
Drogan blinked and pulled his attention back to his second in command, Lieutenant Jason Mercy.
"Sounds like a good idea. Have Rena put it on the schedule. We'll do the run after we stop at Earth in the next few weeks."
Jason nodded and made his way toward the captain's private office.
Drogan blew out a breath. He wasn't sure how much longer he could continue ignoring his attraction to Rena Morrigan. His assistant was driving him crazy. From day one, when he first hired her, he had been attracted to her. Now things were out of control. He couldn't even smell the scent of jasmine without getting hard. If he thought he heard her voice, he would track down the source just to see if it was her. He found himself taking the long way to his quarters just to catch a glimpse of her.
He was obsessed and there were only two options before him: fuck her and get them both fired, or fire her and then fuck her. Neither option appealed to him. He loved his job as captain of the Venetian S89-class spaceship Hades' Helmet. He wasn't about to let some crush jeopardize his career. But his attraction to Rena had become a dangerous distraction. He wasn't just dreaming or fantasizing about her at night. Now his mind would wander during the day, and he would find himself thinking about all the things he'd like to do to her.
He sighed. Damn it. She was one of the best assistants he had ever had. She put up with all his demands, and if he got even a toe out of line she would straighten him out in no time flat. More than that, she was a person he could confide in, have a laugh and a drink with, and just be himself around. The thought of being without Rena actually scared him.
Drogan looked over to his office and watched the doors slide open. Rena stepped across the threshold, smiling at Jason. Her smile warmed Drogan, even as he frowned. Jason Mercy was known to be one of the lady-killers of the crew. Was he flirting with her? Drogan glowered at the thought that Jason was after Rena. He almost stood up to tell his second in command to back off. Instead, he remained seated and gritted his teeth.
Rena looked up at him, her smile faltering on her lush, full lips.
"Captain, sir. Is something wrong?"
Drogan found himself pleased by her worried tone. "No, no, just tired. Been a long journey."
"Oh, well, you should get some rest, sir, if you don't mind me saying."
He watched her look away shyly. Her concern touched him. His heart expanded in his chest and he grinned. The evil voice of a man who had gone six months with only his hand as a form of release slipped into his mind. He wouldn't mind getting some rest after fucking her.
Drogan's cock twitched in his pants and he clenched his jaw as an image of her curled up naked beside him entered his mind. He cleared his throat, trying to regain some of his control.
"Thank you for your concern, Rena. I will." His voice was slightly husky from arousal.
Rena looked up at him and blinked, only to nod her head and leave the bridge. Drogan blew out a sigh and tilted his head back, closing his eyes and willing his body to calm down.
"You okay, Captain?" Jason asked.
"Yes, just tired."
"Go on, Captain. I'll take over. There's nothing happening right now. Don't worry about a thing."
Drogan opened his eyes and stood up. Nodding to Jason, he left the bridge and headed for his quarters. The ship was silent and still. He loved this time in the voyage. No crew members rushing around bumping into each other. No murmuring through the halls and in the lifts. Just quiet.
He leaned against the back of the elevator and closed his eyes.
"Rena," he whispered. He groaned aloud as the ache in his groin increased. He needed relief. Two years she had been on the ship, and not once had she given him a sign that she was interested. It was against regulations for crew to become involved, and Rena cared about regulations almost as much as he did.
Contest: Since it's going to be Halloween soon my Contest Question for you is if you could dress up as any character from any Sci-Fi show who would you be?
One Lucky Commentor will get a copy of Draven's Crossing 3: Hidden Diversions.
Rule in order to be entered: You must answer the question to qualify for the contest.
******************
Thank you so much Selena!! Be sure and leave a comment for Se answering her question so you can win! Also go back and enter all the Hops! Hey, you're here. Why not? Thank you for coming and remember, F.A.S.T. Balls is the #3 bestselling book in gay romance on Amazon . Want to see more. Click HERE.  : )