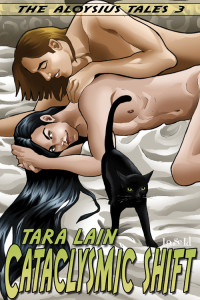 Hi and thank you to everyone who has played along on all the games in the release party for Cataclysmic Shift! The book has already gotten some great reviews and is on the bestseller list at ARe. Today i'm blogging at Tempeste O'Riley's place and that's the finale! So, if you want to earn more points in the contests, here's what you can do:
Go HERE and enter on the Rafflecopter. If you only did one or two of the tasks, do the others and get more points!
Every day of the party there has been a special assignment which gives people points in a second contest for their choice of any book from my print books selection signed by me  OR a $10 GC. (international will get the GC) So go back and check the blog posts for each day and see the special assignments to gain more entries in the second contest.
If you've had trouble leaving a comment on my blog (one person said they did) please email me at tara at taralain dot com and tell me all the special assignments you've done. That way. i'll be sure to give you credit before i start counting.
There's no special assignment today. Just check out all the other days and enter if you want to. As a reminder, i'm giving away two $10 GCs in two drawings, a signed copy of Spell Cat, a winner's choice of Spell Cat or Brush with Catastrophe in ecopy, and a Volley Balls T-shirt.
So to conclude our party, here's a sexy excerpt from CATACLYSMIC SHIFT! Thanks again, everyone! 
Excerpt R: CATACLYSMIC SHIFT by Tara Lain; A Cat Falls in Love with His Vet
Available at Loose Id     Amazon     ARe
Super cat, Aloysius, may be the most powerful witch's familiar in the world, but when he takes a blast at the hand of an evil witch he loses it all — power, memory, and his feline form — to become the ethereal human beauty, Alain Bellarose. When Alain wakes up naked on the floor surrounded by dogs and cats, his eyes first set upon Luke Elliott, the handsome and mysterious veterinarian.  Suddenly, the prospect of being human doesn't seem so bad. Luke has a lot to hide and he likes animals way more than people, but he can't resist the flamboyant boy who washes his face with the side of his hand and tries to lick his own privates!  The loss of Aloysius depletes the power of the Witch Master, Killian Barth, and that of his "secret weapon" Sammy and leaves their coven sitting ducks for two very nasty females. When Alain discovers that he's really a powerful cat, he's faced with the ultimate choice. To protect his community, or stay with the man he loves.
He walked around and got into the driver's side, started up, and drove out onto the busy New York street.
"Luke?"
"Hmm?"
"How long does it take to get home?"
"Usually about ten minutes, but the traffic's a bitch."
"Yes. I'm feeling very, what is your word, horny?"
Luke grinned. "Oh, really?"
"Yes. See?"
Luke glanced over to the passenger seat. Alain's big cock stood up through his open fly like a light pole. Yeah, like the light poles shining down on their car on this jammed street. "Shit, kitten. We're not exactly alone."
"Hmm. But I think no one can see." He ran his hands up and down his cock like he was shining it. "Is it pretty?"
"Hell yes. You know it is."
"It doesn't look funny to you because I am not circumcised like American men?"
Luke swallowed hard. "No. I love that little turtleneck. I like sticking my tongue under it." Oh crap, his cock throbbed.
Alain kept stroking. "I'm so glad. I love your member too. Especially when you put it in my back door. That was so wonderful."
"You…you liked that?"
"Yes. I want to do it again and again when we get home."
"You keep talking about it, and I might not make it home."
Alain giggled. "I rather hoped that would be so." One slender hand reached over and pulled down Luke's fly, then, with a dive over the console, Alain swallowed his cock.
"Holy shitfire!" Don't close your eyes. Don't close your eyes. Watch the road. Thank God they were moving at a glacial pace. But Alain was making up for it. He sucked, swallowed, then ran his tongue all around the head. Rinse and repeat, baby. Holy crap, the kid was good. Luke had been famous in his former profession for the head he gave. He could literally tie a knot in a straw with his tongue. But man, Alain was so good. Maybe it was the sheer enthusiasm, but this kid could suck like a New York street sweeper.
Driving while shoving your cock into another man's mouth should be a test for coordination. But he couldn't keep his hips still. Inch three feet. Hump. Hump. Crawl half a block. Humpity-hump. Oh man, that truck driver in the delivery van was getting an eyeful, and he couldn't care less. The guy whistled and gave a little honk, but when Luke looked over, he got a thumbs-up. He grinned. The guy probably thought Alain was a woman. The traffic in the truck's lane moved faster, and the driver had to pull ahead, but he looked really disappointed.
Luke's balls were tight as rocks, and he wanted desperately to get them off. "Bab—kitten, I'm going to come if you don't quit. But shit, it feels so good."
That spurred the kid on. Luke's cock disappeared into a hot throat that squeezed until every nerve flamed. Then that seeking tongue pressed into his slit. Shitfire. That was it—