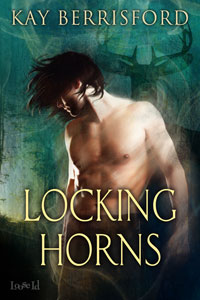 Hi everyone–
I always love welcoming my friend Kay Berrisford to the blog. Her books are so exciting and she's so nice! Be sure to comment, because Kay is giving away a copy of one of her Greenwood Series and that's some good books! Here's Kay–
Stag-shifters in love and war!  Revisiting Herne the Hunter in Locking Horns.
In my new release, Locking Horns, I've revisited two of my favorite characters—Herne the Hunter, that brooding fifteen-hundred-year-old spirit whose stag antlers shift into being when his passions are stirred, and his lover, Tam. Those of you who've read Bound for the Beast will already know all about these two. (If not, now's the time to catch up, though Locking Horns can also be read as a standalone introduction to the Greenwood series.) In first book, Herne and feisty village lad Tam are bound together when a fairy betrothal ceremony goes wrong. They're hurtled into a magical race against time to break their enchanted connection before the effects prove fatal for Tam. Of course, love blossoms—to know how and why you'll have to read the book—and Herne eventually claims and remakes Tam as a fellow immortal shape-shifter, so they can find their "happy ever after."
As I'd set Tam and Herne up for an eternity together, it seemed natural to revisit them some time in a sequel. But this presented me with that age-old problem. How can I create enough tension between my boys for an interesting romance, without spoiling the ending of the previous book? I was recently lucky enough to discuss this matter with some writers more experienced than I. I learned that some people argue believable characters can never have a real "happy ever after," unless we follow them all through life to death—which is kind of sad in a different way. We can only ever have "happy for now" endings, but the trick is to satisfy yourself and the reader that the folk we've been on a journey with are in love and can now negotiate the pleasures and pitfalls of a life together.
This seems a helpful way of viewing the issue.  I don't think I'd like to read or write about two characters I'd seen falling in love cheating in a sequel, but that's just a personal opinion. I'm open to anything that's written sensitively and well. However, the course of true love rarely runs smoothly—and for Herne and Tam, negotiating hundreds of years together was bound to throw up some trouble.  After all, Herne is an Iron Age warrior, and by the start of Locking Horns, set in 1804, the world is changing rapidly. Herne yearns for the ancient past—whereas Tam embraces all things shiny, modern, and new.  But they've even greater challenges ahead. As the forests are diminished and destroyed, Greenwood magic is fading. Herne fears his and Tam's enchanted existences are threatened. Will they find a way to tackle their troubles as a couple, or have to face the brave new world—and maybe death—alone?
In the end, I enjoyed exploring these issues so much, I have tentative plans for a Herne/Tam story set in the present day. After all, if Herne is having trouble in 1804, how would my ancient stag-shifter negotiate 2013? Would Tam embrace the modern world too keenly, and go horribly wrong—become a speed freak, or fall victim to an addiction? Who knows! But it's too fun picturing Herne getting impatient in a supermarket queue and trying not to sprout those mighty horns—lest he get arrested or dragged off to appear on Jerry Springer!
Thanks to Tara for having me here today J
Locking Horns (The Greenwood) is out now, from Loose Id.  http://www.loose-id.com/authors/g-k/kay-berrisford.html
Find out more: http://kayberrisford.com/locking-horns/
If you'd like to win your choice of any of the previous three Greenwood books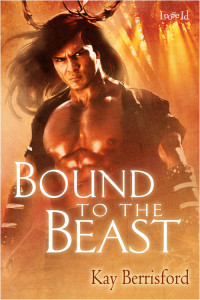 (Bound for the Forest, Bound to the Beast, or Lord of the Forest) plus a $10 GC please comment to win here or at any of the stops on my mini blog tour (For schedule visit http://kayberrisford.com)
Blurb: England, 1804. Herne the Hunter has roamed the forests for hundreds of years and he's known love with fellow half stag-shifter Tam for the past two centuries. The passion between them sizzles hot as ever, but times are changing. Greenwood magic is fading and this threatens both Herne and Tam's immortality and the bond between them.
After Herne discovers the Greenwood fairies are dying, and dockworkers felling oaks to build warships might be to blame, he wants to fight the modern world with his warrior's sword. Tam, who embraces all things new, desires a dominant partner, not a brute who wants to drag England back to the Dark Ages. Soon the Wild Hunt, Herne's ancient army of doom, are back, tempting him to unleash his wrath, and the rhythm of Herne and Tam's lovemaking seems broken for good. When Tam's plan to reinstate a spring ritual goes awry, only Herne can save him. Herne must choose between his past and future, and they both must decide what matters most—eternal life or eternal love.
This story can be read as a sequel to Bound to the Beast, a prequel to Bound for the Forest, or as an introduction to the Greenwood series.

Excerpt:
Herne's amused grunt betrayed that his anger had waned. Now Tam could turn the huntsman's wild passions to their advantage. He splayed his hands across Herne's back, smoothing the leather of his old-fashioned tunic, relishing the muscles beneath. Herne relaxed under his touch and looked down at him, those great antlers swaying forward, and raised a brow.
He cupped Herne's iron-hard arse and squeezed. "I'd feel a lot better if we found the fairies' secret betrothal dell. Do you remember the way?"
"I do." Herne's midnight-blue eyes glinted, and heat seared between them. Tam felt the outline of Herne's burgeoning erection against his belly, and his cock twitched in response.
His smile broadened into a grin. "You know what those bloody fairies are like. Inquisitive as washerwomen. If we set about recapturing past glories—if you claim me all over again—they won't be able to resist coming to watch. Then all your worries…will…be…over."
Tam's words trailed to near nothing as Herne pressed forward and seized his lips in a ravishing kiss. He yielded at once, drawing Herne's hot tongue inside, savoring the scrub of hard stubble against his softer skin. Even after all their years together, Herne's taste and commanding demeanor sent a wondrous shock coursing through him. Herne's raw masculinity had been wrought in a lost era of tribal lords, when he'd battled the might of Rome. His power as a spirit—gifted to him by the Mother Goddess, creator of all things—rolled in torrents from him too.
Herne crushed Tam against him, sweeping to such depths that Tam could scarce breathe. Tam didn't care. He slipped his tongue against Herne's and worked the kiss with an affection that sang sweeter each season they passed together. The demispirit of the holly, while not always in perfect agreement with his lover, had been created to cherish the oak.
When Herne finally broke the kiss, he cupped Tam's face and growled in hunger. Tam gasped for air, and his cock ached. He needed Herne to pull him closer, to fuck him to oblivion, and he couldn't contain the lust that flooded his veins.
An exquisite pain ripped through his head, and the pressure released. As Herne caressed him, his antlers surged upward from his skull. When Herne had made him a demispirit, he'd shared his crown. Though not as majestic as Herne's, Tam's horns were now as impressive as those of a buck in his prime, covered in a velvety down.
Panting, Tam scuffed his foot and straightened, adjusting to the weight on his head. When he leaned closer to Herne, their bony appendages interwove with a noisy clack.
"All right?" Herne's voice sounded thick with desire.
Tam nodded, teeth gritted. When their antlers reared, their carnal needs—whether born of man or beast—held sway. He gathered his breath and then grabbed Herne's hand. "Let's find this dell, or you're going to have to fuck me right here among the bluebells."
All Greenwood titles are available from Loose Id:  http://www.loose-id.com/authors/g-k/kay-berrisford.html
Amazon: http://www.amazon.com/Kay-Berrisford/e/B006JLQ4L8/ref=ntt_athr_dp_pel_1
All Romance:
http://www.allromanceebooks.com/storeSearch.html?searchBy=author&qString=Kay+Berrisford
Fine out more at Kay's website: http://kayberrisford.com/
Twitter: https://twitter.com/KayBerrisford
Facebook: https://www.facebook.com/kayberrisfordwriter
*********************
Thank you so much for stopping by. Be sure to leave a comment to win one of Kay's Greenwood books! YUM!